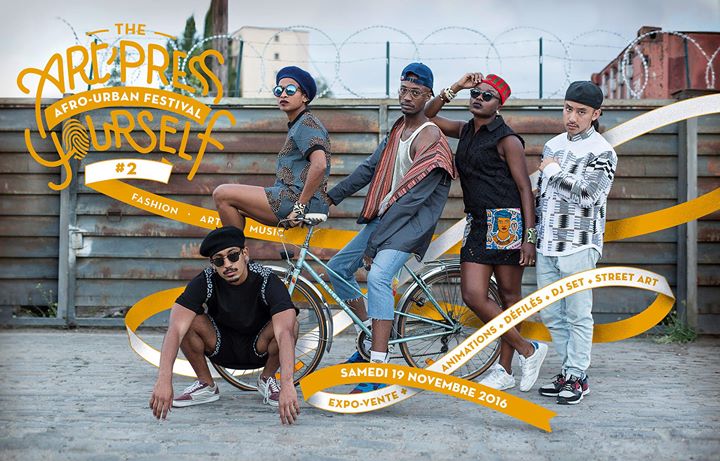 http://WWW.ARTPRESSYOURSELF.COM
Billeterie / Ticket office : http://bit.ly/apy2016c
PASS 'Johris All Access' (11h à minuit) : 12 euros
>> (Swipe to the bottom for the english translation) << Le festival Art'Press Yourself (aka APY) est le rendez-vous automnal, festif et parisien de la création afro-urbaine, dans les domaines de la mode, de l'art ou de la musique. Après le succès de sa première édition autour du thème fédérateur des Old School Vibes, APY imagine une cité utopique, cross-over de deux capitales en constante ébullition, Johannesburg et Paris : « JOHRIS ». Johris offrira le temps d'une journée et d'une soirée magique la quintessence des valeurs positives que nous partageons. Johris, un lieu de rencontres d'échanges, où artistes, créateurs et public regardent ensemble dans la même direction : le plus loin possible ! Pendant le festival Art'Press Yourself: – Découvrez les raffinements de la culture sud-africaine, – Naviguez entre les rayons de l'exposition-vente, – Participez à un défilé surprenant, – Laissez-vous porter par les sons afro-house de DJ MO LAUDI, – Face & Body Painting, votre corps devient une œuvre d'art en mouvement, – Testez le fooding made in Johris… DATE: le samedi 19 Novembre 2016. LIEU: Pan Piper : 2-4 impasse Lamier 75011 Paris Metro PHILIPPE AUGUSTE l.2 HORAIRES: de 11h00 à 00h00. /////////////////////////////////////////////////////////////////////////////////////// ENGLISH: The Art' Press Yourself festival (aka APY) is the place to be during the fall season in Paris ! It is the first festival to highlight the afro-urban creativity in fashion, art and music. After the success of the first edition around the federating theme « Old School Vibes », APY envision an utopian city, «JOHRIS »; the perfect mix between two capitals in constant activity Johannesburg and Paris. JOHRIS will offer you for one day and one magical night the epitome of the positive values we all share. JOHRIS is a place to meet and share, where artists, designer and the public look altogether towards the same direction: as far as possible ! During the Art' Press Yourself festival: - Discover the retirements of the south-african culture. - Navigate in between the spaces of the exhibition-sale space. - Participate to a surprising fashion show. - Lose yourself to the afro-house beats of DJ MO LAUDI. - With our face & body painting, your body will become a moving art piece. - Try the fooding made in JOHRIS… DATE: Saturday, 19th of November, 2016. PLACE: Pan Piper : 2-4 impasse Lamier 75011 Paris Tube station PHILIPPE AUGUSTE l.2 HOURS: from 11am to midnight.