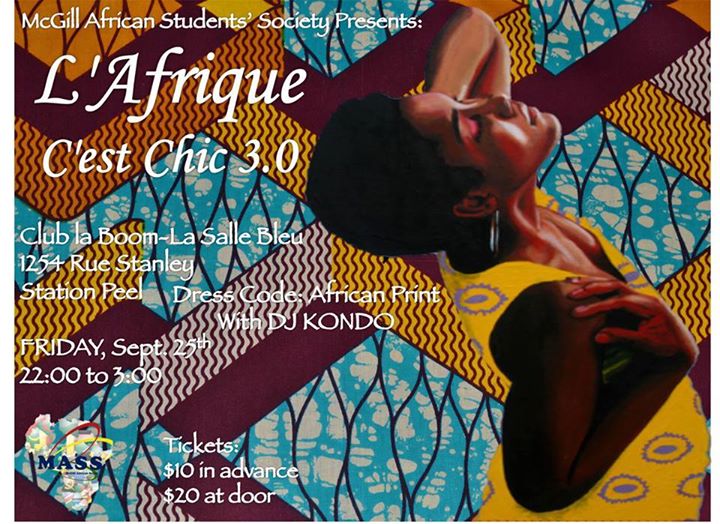 Are YOU ready for MASS's FIRST event of the 2015-2016 school year?!
Wear or accessorize with your BEST, BOLDEST and BRIGHTEST African prints and come party with us!!
You will be hearing the latest beats from the one and only DJ KONDO!! Afrobeats, Zouk, Coupe Decale, Hip Hop/R&B, Dancehall, Soca, you name it!
Come one, come ALL!!
*INFORMATION*:
LOCATION: 1254 Rue Stanley (Club La Boom – La Salle Bleu)
METRO: Peel
TICKET PRICES: $10 in advance, $20 at the door.
= Contact your execs for tickets =
*Carmella: 514 578 1447
*Anne-Sophie: 514 699 9490
*Aurore: 514 677 3935
*Betty: 438 882 8695
*Marilyn: 514 941 9386
*Alex: 281-796-7262
*Vanisa: 6476202767
*Muriel: 514 929 3740
*Michelle: 514 291 2839
~PLEASE BRING A VALID PIECE OF ID.
UNIVERSITY ID IS ACCEPTED~