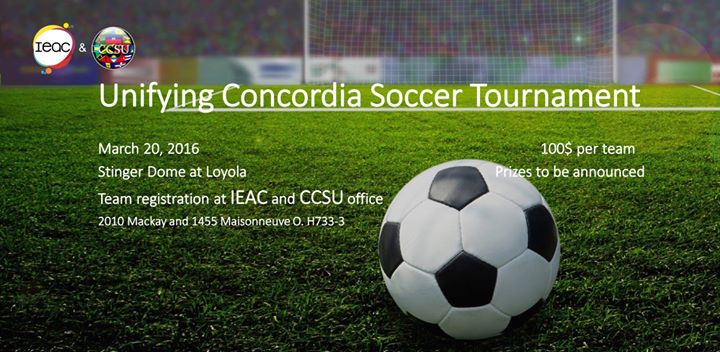 Dear Concordians,
Concordia Caribbean StudentUnion along with the IEAC Concordia and Concordia Swarm are organizing the 6th annual FOOTBALL (yes its called football mate) tournament. Rules are simple, form a team and come show us what you got. The winning team will have the honour to carve their teams name at the trophy that has been with us for 2 years now and is slowly but steady becoming a tradition within the Concordia history. So, if you think you are ready to write history upon us, come prove it.
WHEN: Sunday, March 20
TIME: 10am- 5pm
WHERE: Stinger Dome at Loyola Campus
12 teams of max 12 people (min 8)
100$ per team
Teams can include both males and females
A registration form will all rules for team paricipation and registration will be provided very soon. Once this is provided regisration will officially be open.
You'll be provided with food and water during the day.
Its a free event for the spectators: Come to support your team as well, we need lots of supporters.
Come visit us at at IEAC office (2010 Mackay) or CCSU office (H building – H733.3)