Weeks ago, i discovered a sitcom on youtube, How she left my brother a short-form dramedy.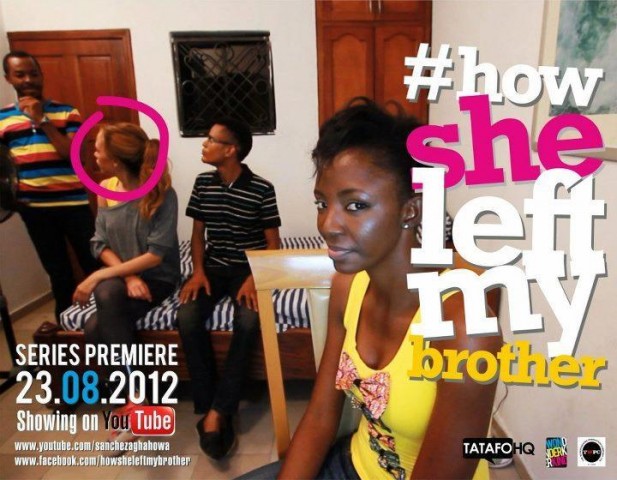 Here's the synopsis : EJIRO (Ivie Okujaye) lives with her older brother MATT (Chris Attoh), and they are really, REALLY close. And that is why EJIRO believes that she has a direct say in MATT's love-life even over MATT's best friend TUNJI (OC Ukeje) – who by the way she has a massive crush on, but more on that later.
About 10,000 subscribers to her video blog seem to agree with her need to vet every girl Matt dates (even if it's just for their amusement). You see she has a video blog called 'how she left my brother' which she runs with her geeky neighbor IK (Victor Godfrey) where she moans and complains about the situation, until the day she actually started to implement little sneaky ways to end Matt's relationship. It seems a silly childish thing to do.. until they succeed !
Now they have gotten rid of the girlfriend in question, they are about to shut the blog down – until NICOLE (Eku Edewor) enters the picture. For now Nicole is just friends with Matt – but she clearly wants to be SO much more. It seems the blog will continue after all – and we'll get to tune in…
The team behind this sitcom accepted to answer some questions for us :
Who is behind "How she left my brother"?
The name is Victor Sanchez Aghahowa. I am a writer-director. I created, wrote and directed #howsheleftmybrother with the assistance of Onyekahi Banjo of The WongFaeHong Production Company and of course the amazing actors who agreed to be on our little show. I also direct on MNet's soap opera Tinsel and was a Future Award nominee for 2012 for Screen Producer of the Year
How did you guys got the idea?
The idea really is one of a gazillion that we have, but the decision to make it as a web series was birthed from the need to explore new avenues for story telling, see if there was a viable business model to be developed from web TV, and the burning need to stop whining and just DO something fun!
What were your expectations at the beginning?
Honestly, we really never expected the kind of response we got – though in other areas we were greatly disappointed, in the end it all balanced out. But to put numbers on it, I really was fine if ONE episode hit 10,000 views and 500 subscribers by October 1st (based on a release date of August 23rd and we hit it!
Have you achieved your goals?
So yes we reached most of our goals, though we are retooling others based on when we learned. We have always said that this was an experiment. Now it's done and the results are clear. Time to swing for the fences. Season two is enroute soon!
A last word for our readers?
Watch our show! There's a lot we can do to move our communities and our countries and our artforms forward – if we only learn to stop complaining and start DOING.
---
Youtube : sanchezaghahowa
Twitter : howsheleftmybro
Facebook: howsheleftmybrother