Baiyu ft Rotimi a cataclysm that condenses into a single stroke of melodic genius.
With the masterful touch of producer & songwriter Kaleb "KQuick" Rollins of Grand Staff L.L.C., thus is the birth of Invisible, a collaboration between artists Baiyu and Rotimi, wherein a blossoming romance is veiled with a sense of unrequited passion.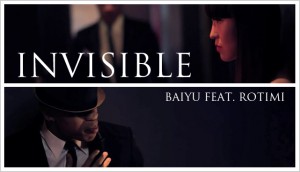 Baiyu is preparing for her highly anticipated Summer release of a brand new project entitled Hunter, slated for the 13th of June. Baiyu is getting geared up through yet another visual created by director Eif Rivera.
For this first video off of Hunter, Baiyu hit the studio and the set with Rotimi. More than a musician, is also an accomplished actor. His work was featured on Starz channel's award-winning television series BOSS, as well as the new face of T.I.'s AKOO line of apparel.
For additional information on both Baiyu ft Rotimi collaboration, check the links below.  To download Invisible, as well as to listen to Baiyu's existing projects, go to music.baiyuonline.com.