The 100 Great Blacks in UK were compiled as a response to the BBC Great Britons debate that took place last year.
Patrick Vernon, founder of black heritage website Every Generation saw that no black people even made it to the BBC Top 100, due in part to many people being unaware of black achievements and contributions made over the centuries.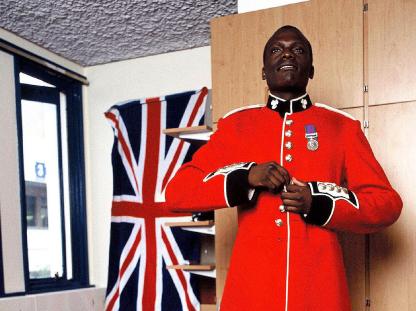 The creation of 100 Great Black Britons nomination list reflects the history of the black community over the past 1000 years. This list and the debate that it will no doubt generate is a form of celebration – to celebrate those unsung heroes who helped change and shape the political, social and cultural landscape of Britain, at the same time celebrating those individuals who are well known. Our aim is to educate both black and white, to impress upon people the diverse historical background of black people, and to reflect the growing interest in black culture and history.
"The popularity and success of the campaign highlights the fact that black history in Britain is intertwined with British history. We have launched the results to coincide with Black History Month in The United States, because we have our own successes and achievements that need to be acknowledged "- Patrick Vernon

"This is wonderful news – what an achievement! As a black Jamaican woman in the 19th century Mary Seacole stood up against the discrimination and prejudices she encountered. Against all odds Mary had an unshakeable belief in the power of nursing to make a difference.
I am delighted that she has finally been recognised for her outstanding determination, leadership and commitment to nursing. I believe she embraces the 'essence of humanity', qualities that we can still learn from in today's society.
The RCN and I passionately believe that Mary Seacole deserves a statue in London to commemorate her service in the Crimean war and her important place in the UK's and nursing history. Today's award demonstrates that the time has now come to make this happen. – Sylvia Denton OBE, FRCN RCN President
Top 12 greatest Black Britons
Mary Seacole a skilful nurse and 'doctress' from Kingston, Jamaica, made her mark on British public life when she went to the Crimea by her own efforts to bring comfort to the wounded and dying soldiers, after her offers to help were rejected by the government. In 1855 she opened her British Hotel, and the British army soon knew of 'Mother Seacole'.
She was awarded a Crimean medal, and in 1857 published her autobiography, The Wonderful Adventures of Mary Seacole in many lands. She died in 1881, and is buried in Highgate Cemetery.
Wilfred Wood Born in Barbados in 1936, Wood came to London in 1962 and served as a curate, then honorary curate, of St. Thomas with St. Stephen, Shepherd's Bush, until 1974. Being struck by the harsh conditions that black immigrants had to undergo and by the problems of the inner city, Wood maintained an active interest in race relations and social justice in London. He was a founder member of the Paddington Churches Housing Association, and was appointed the Bishop of London's race relations officer in 1966, and was Bishop of Croydon from 1985 to 2003.
O.A. Lyseight Founding Father of the New Testament Church of God England & Wales. Dr. Oliver Lyseight arrived in the United Kingdom in 1953 and being a devoted Christian. Today, the New Testament Church of God stands proud with over 107 branches, 12 missions and over 10,000 members with a further 20,000 adherents.
Mary Prince, one of the first black writers to be published in Britain, shocked readers with her account of the horrors of slavery that served as a protest and rallying cry for emancipation that provoked two libel actions and ran into three editions in the year of its publication.
After escaping from her owner in 1828, it is thought that Mary remained in England. Her story is an important contribution to early black writing, offering a glimpse into the lives of enslaved men and women whose life stories cannot be traced.
Olaudah Equiano was the first political leader of Britain's black community. He worked closely with Granville Sharpe and Thomas Clarkson in the Society for the Abolition of the Slave Trade, often speaking at public meetings describing the cruelty of the slave trade. He published his autobiography, The life of Olaudah Equiano, the African in 1789, which became the single most important literary contribution to the campaign for abolition. In his lifetime, Equiano's narrative went through 8 editions; six more followed in the 22 years following his death.
Queen Phillipa was the daughter of William of Hainault, a lord in part of what is now Belgium. When she was nine the King of England, Edward II, decided that he would marry his son, the future Edward III, to her, and sent one of his bishops, a Bishop Stapeldon, to look at her. He described her thus:
"The lady whom we saw has not uncomely hair, betwixt blue-black and brown. Her head is cleaned shaped; her forehead high and broad, and standing somewhat forward. Her face narrows between the eyes, and the lower part of her face is still more narrow and slender than the forehead. Her eyes are blackish brown and deep. Her nose is fairly smooth and even, save that is somewhat broad at the tip and flattened, yet it is no snub nose. Her nostrils are also broad, her mouth fairly wide. Her lips somewhat full and especially the lower lip…all her limbs are well set and unmaimed, and nought is amiss so far as a man may see. Moreover, she is brown of skin all over, and much like her father, and in all things she is pleasant enough, as it seems to us."
Philippa was a remarkable woman. She was very wise and was known and loved by the English for her kindliness and restraint. She would travel with her husband on his campaigns and take her children as well. When the King was abroad she ruled in his absence. Queen's College in Oxford University was founded under her direction by her chaplain, Robert de Eglesfield in 1341 when she was 28. She brought many artists and scholars from Hainault who contributed to English culture.
Courtney Pine is one of Britain's best known and most innovative jazz saxophonists. His debut album, Journey to the Urge Within released in 1987 was the first serious jazz album ever to make the Top 40, and established Pine as the leading figure in the British jazz scene, and an inspiration to many young musicians, black and white.
Pine has been honoured with a MOBO award for best jazz act for two years on a row (1996 and 1997). He has collaborated with some of the biggest names in jazz including Wynton and Branford Marsalis, and was asked to join Art Blakey's Jazz Messengers. He has been awarded an OBE, and currently hosts a popular show on BBC Radio 2.
Sir Bill Morris Born in Jamaica in 1938, Sir Bill Morris was until recently General Secretary of the Transport and General Workers Union. His leadership of the TGWU has seen several high profile battles; in October 1999 he challenged the Ford Company over racism at its Dagenham plant, saying that the company was sitting on a tinderbox. Most recently he was awarded with a knighthood and is heading an inquiry into the treatment of ethnic minority police officers in London, an inquiry he says is vital to restoring public confidence in the Metropolitan Police.
Sir Trevor McDonald Born in Trinidad in 1939, Trevor worked in various aspects of the media including local newspapers, radio and television. He joined the Caribbean regional service of the BBC World Service in 1960 as a producer, before moving to London at the end of that decade to work for the corporation (BBC Radio, London).
Moving to Independent Television News (ITN) in 1973, he rose steadily through the ranks. He's served as news, sports and diplomatic correspondent before moving on to become diplomatic editor and newscaster. Twice voted Newscaster of the year, McDonald is perceived as the face of ITN after years of fronting its flagship 'News at Ten' bulletin.
Once viewed as the best-spoken person in the country and was reported to have fronted a two-year inquiry into the state of language learning. It warned that government education policy failed to teach pupils the necessary language skills needed for later life.
In 1992 he received an OBE in the Queen's Honours List, and received a knighthood in 1999. He continues to be the anchor for the News at Ten, and presents Tonight with Trevor McDonald, which was launched in 1999.
Shirley Bassey is regarded as one of the original divas. With a career that spans more than 50 years, her dramatic voice has provided three Bond films with unforgettable theme songs. She hosted her own highly rated BBC show in the 1970s moving to Switzerland in the early 80s.
The woman they call Burly Chassis came back in customarily spectacular style in 1997 with History Repeating, collaborating with Bath's Propellerheads. It introduced her to a new generation of dance fans, just as she was celebrating her 60th birthday.
A mother and grandmother with a self-confessed love of glamour, Dame Shirley still returns to Wales for occasional performances – she topped the bill at the opening of the Welsh Assembly in 1999, and performed the anthem World In Union with Bryn Terfel for the Rugby World Cup in 2000.
Bernie Grant Labour MP Bernie Grant was one of the most charismatic black political leaders of modern times. His death on 8 April 2000 marked almost four decades campaigning for racial justice and minority rights. Though in life he was an outspoken maverick, in death, Bernie Grant was praised from the heights of the Establishment, from Cabinet ministers and Scotland Yard to political associates and black community leaders, and Prime Minister Tony Blair described Grant as "an inspiration to Black British communities everywhere".
A successful local politician, Grant served for a decade as local councillor in the London Borough of Haringey, of which he was elected Leader in 1985. He was the first black head of a local authority in Britain, and was responsible for the well-being of a quarter of a million people, many of them Black and ethnic minorities. Grant joined the Labour Party in 1975 and was elected as Member of Parliament for Tottenham in 1987.
Bernie Grant brought to parliament a long and distinguished campaigning record. He was a founder member of the Standing Conference of Afro-Caribbean and Asian Councillors and a member of the Labour Party Black Sections. He convened major conferences of politicians, activists, researchers and academics to shape black agendas. Grant also helped tackle racism on a European wide level, in association with members of the European Parliament and anti-racist groups.
Professor Stuart Hall was born in Kingston, Jamaica and was educated in Jamaica and at Merton College, Oxford (Rhodes Scholar). He came to prominence at the Centre for Cultural Studies at Birmingham University and thereafter as Professor of Sociology at the Open University from 1979.
He is currently emeritus at The Open University and Visiting Professor, Goldsmith College, Milton Keynes, he was Research Fellow and then Director of the Centre for Cultural Studies, University of Birmingham. His research interests are in cultural theory and cultural studies, race, ethnicity and cultural identity. His publications include: Resistance through Rituals, The Popular Arts, Policing the Crisis, Culture, Media, Language, New Times, Critical Dialogues in Cultural Studies, Questions of Cultural Identity, Representation and Visual Culture: A Reader
The complete 100 Great Black in UK in order
Every Generation website 100 Great Black Britons call Recognition as a result of the success of 100 Great Black Britons. The site feature profiles, information, news and stories of achievement from individuals, which will be seen as a source of inspiration. No matter how big or small the small the achievement Recognition wants to celebrate and share with the rest of the community and the Diaspora.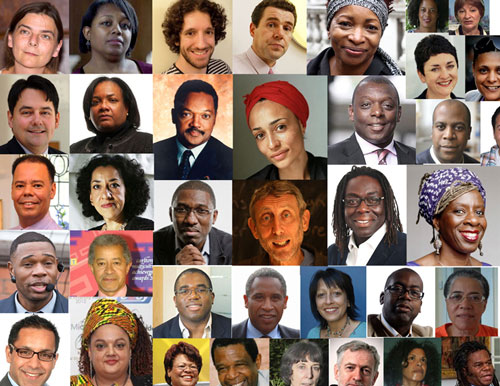 Mary Seacole
Wilfred Wood/O.A. Lyseight
Mary Prince
Olaudah Equiano
Queen Phillipa
Courtney Pine
Sir Bill Morris/Sir Trevor McDonald
Shirley Bassey
Bernie Grant
Professor Stuart Hall
Elery Hanley
Sade
Stephen Lawrence
Ms Dynamite
Queen Charlotte
Henry Sylvester Williams
Daley Thompson
Lenny Henry
Joan Armatrading
Benjamin Zephaniah
Arthur Wharton/Andrew Watson
Linton Kwesi Johnson
Nana Bonsu/Len Garrison
George of Lydda
Septimus Severus
Baroness Rosalind Howells
Harold Moody
Lennox Lewis
Diane Abbott
William Cuffay
Francis Barber
Ignatious Sancho
Phil Lynott
Moira Stuart
Frank Bruno
Niger Val Dubh
Leary Constantine
Elizabeth Barrett Browning
Robert Wedderburn
Claudia Jones
Herman Ouseley
Craig David
John Barnes
Martin Offiah
Des'ree
Randolph Turpin
Paul Boateng
Cleo Laine
Lord John Taylor
Ottobah Cuguano
Trevor Phillips
Ian Wright
Linford Christie
Bruce Oldfield
Peter Herbert
Mike Fuller
Lee Jasper
Beverley Knight
Ozwald Boateng
Viv Anderson
Desmond Douglas
Patrick Berry
Brendan Batson
Floella Benjamin
Lord David Pitt
John Edmonstone
Kanya King
Val McCalla
Dame Jocelyn Barrows
David Lammy
Oona King
John Archer
Baroness Scotland
Baroness Amos
George Bridgetower
Samuel Coleridge Taylor
Zadie Smith
Jazzy B
Ira Aldridge
Colin Jackson
Yvonne Brewster
Duonne Alexander
David Case
Tessa Sanderson
Seal
Errol Brown
Rudolph Walker
Gabrielle/Naomi Campbell
Goldie
Mica Paris
Angie Le Mar
Ben Okri
Denise Lewis
Jeremy Guscott
Paul Ince
Nigel Benn/Chris Eubanks
John Conteh
Janet Kay
Jenette McDonald
Carroll Thompson