La Collection Automne 2013 de Demestiks New York affiche ses couleurs !
Reuben Reul, le créateur de la marque De-mes'tiks New York propose un style chic et universel qui conviendra aux fashionistas. Variée et originale la collection propose , des robes longues à lavallière, des jupes péplum et des vestes wrap.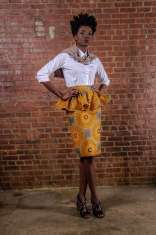 La modèle Yaasoulrebel est photographiée par Kia Chenelle pour cette nouvelle collection du designer de Brooklyn qui affirme plus que jamais le motto de Demestiks New York "Live to create, create to live". Devenez votre propre reine africaine moderne avec ces nouvelles pièces Demestiks NYC.
Photo de Demestiks NYC :
Pour aller plus loin :
Site Web Esty : De-Mes'Tiks NYC.