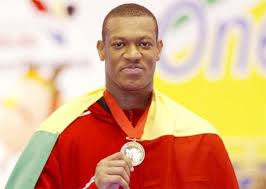 Daba Modibo Keita is a Malian Taekwondo athlete who has competed in international competitions since 1996. He became the Heavyweight division 2007 World Taekwondo Champion in Beijing and 2009 World Taekwondo Champion in Copenhagen. Daba lives in United States and we meet him for an interview…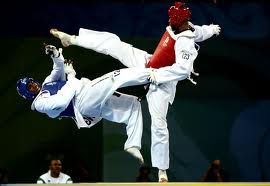 There are many fighting sports, how do you begin in taekwondo and what does it bring to you?
When I was young I played soccer on the street every day like most African children, however it was only when school was not in session. During school I didn't have much time to play soccer, so I had to find another sport to participate in after school. My father's younger brother was serious about Taekwondo and he suggested that I take Taekwondo. He told my father that I would learn self-defense and Taekwondo was so much more than fighting: Tae means "kicking", Kwon means "punching" and "Do is "the way of life." It is the "Do" component of Taekwondo that makes this martial art so powerful for young people.
Living by the tenets of Taekwondo (courtesy, integrity, perseverance, self-control and indomitable spirit) are what make a young person become a strong leader and role model. So my father brought my brothers and sisters and me to the dojang to enroll us; that was how I got started on the best journey of my life. Without Taekwondo I would not have become the man that I am. Besides the wisdom I get from my parents, the knowledge I receive from Taekwondo has been the single most important component in my overall development as a human being. I would even go so far as to say that Taekwondo saved my life.
How do you prepare yourself before a competition? What is your regimen?
Like most elite athletes I have to train three times a day to prepare for international competition. My coaches, Fernando Georges Ramos and Patrice Remarck, mandate a strict regimen that includes cross training with weights, running for cardio, sprints for speed, bag and hogu drills for stamina, and plyometrics for explosion….And lots of stretching! My Coaches have designed a cutting edge training system that enhances athleticism and agility while developing world-class technique so I feel very fortunate to have them.
I'm a heavyweight, which is the last division (over 87 kg) and I'm a big eater. In other words, I eat pretty much everything [laughs], but seriously, getting close to competition, I watch a little bit my regimen cause, it's not good to be too heavy in Taekwondo because then you sacrifice speed and that makes you slow which is bad. I weigh 105 kilos and I'm fast enough for my division.
Concerning the Taekwondo in Mali, how developed is it? What could you do to influence the situation as a two time World Champion?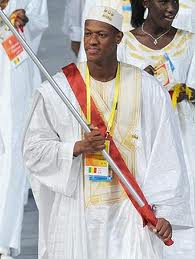 Taekwondo is not well developed in Mali compared to Korea, Iran, Spain, the United States, and Mexico… But because I'm a two-time World Champion, people in my country have become more and more drawn to martial arts and they're sticking with it. It's exciting for me to watch because so many young people now want to have the chance to be like me or even be better than me, which is GREAT.
 It's humbling and reminds me always that the kids watch what I do and they may try to emulate me, so I have to be responsible as to not lead them down the wrong path. As a World Champion, I'm bringing an entire nation of people to Taekwondo, giving much the hope that they too can accomplish what I have accomplished. Today Taekwondo ranks third in my country in popularity, just behind soccer and basketball…and I'm extremely proud of that.
After 2009, you did not compete during several months, how difficult was it to be back on action?
 It's always difficult for an athlete to be forced to take time off; in fact it is heartbreaking, especially when it's due to injury because you feel so vulnerable and weak. It's like your whole world has collapsed and you're just trying to build it up again, but there are so many factors that are out of your control. Also, you lose flexibility, muscle memory, strength, and endurance so it can make coming back exceptionally difficult.
My knee was severely injured while fighting for the second world title in 2009 and playing also basketball. Afterward, I had surgery but then lost all the strength in my leg so I had to completely rebuild my leg; kind of like when a baby starts walking for the first time. This added psychological strain because then I had an overriding fear that my body would never get back to the level it was before the surgery. But through faith in God and working hard, I've learned to manage the pain and work toward being my best again. When you set a goal firmly in your mind, your potential becomes unlimited and you do whatever it takes to make it happen.
Talk us about your foundation?
Well, it's not quite a Foundation yet but it is an Association under my name, ADMK (Association Daba Modibo Keita). I created it in October 2008 with the support of my family, particularly my older brother Alou Keita, along with some close friends and the goodwill of many people. Our mission is to help youth accomplish goals through sport using their individual talents to be afforded a similar opportunity like the one I had.
You know, Mali is a little poor country in Africa and so many children have talents but they don't have that opportunity to be in better condition to rise up… I had that chance, cause the International Olympic Committee IOC, gave me a scholarship in order to be in condition to do my sport and that's why I'm two time world champion today, I'm thanking the IOC for that and I'm encouraging them to do more, cause it's very helpful for us, African athletes coming from those similar countries…
It's not just about Taekwondo. The Association Daba Modibo Keita believes that all sports can provide a positive outlet for young people to excel. We do have a soccer center with talented young players participating in the Mali National Championships, and also a basketball team, Art Troupe and off course a Taekwondo team as well doing amazing things. Association Daba Modibo Keita is working to help young talents rise up as stars. I spend time organizing events and supporting multiple venues because it's my duty…A way for me to give back and help build community, which in turn over time could help, rebuild an entire nation.
What is your message for the Afrokanlife readers?
A big thanks to Afrokanlife for giving me this opportunity! I encourage every Afrokanlife reader to continue supporting Afrokanlife. Through an ever-evolving collaboration, we can get to know each other and make Africa and the world a better place. Together we can plant seeds, one at a time.
I graciously ask every reader to pray for my country, Mali, and other African nations suffering civil unrest. May these nations rise above the violence and learn to eradicate power struggles. May Africa one day lead the globe in human rights and compassion for every citizen, regardless of tribe or ethnic affiliation.
I am also preparing for the 2012 Olympic Games in London, so I would be most grateful if Afrokanlife readers would pray for me to represent Mali and all of Africa, with honor and dignity. I want to thank my family for their support, my Dad Mamadou Keita and my Mom Alimatou Tounkara, Brothers and Sisters, my beautiful country Mali, the IOC, my coaches, my friends, my teammates and all the people that have helped me become who I am today.
Thank you Afrokanlife and God bless you all.
Achievements
1996 : Gold Medal at the West African Championship in

Abidjan

1997 : Gold Medal at the West African Championship in

Bamako

1999 : Bronze Medal at the West African Championship in

Accra

2002, 2004 : champion of Mali

2004 : Gold Medal at the

Paris

Open Championship, in the Open international Open Championship of

Nantes

and in the Open Championship of

Picardie

2005 : Gold Medal at the

Paris

Open Championship

2005 : Sportsmanship trophy in the 17th

World Taekwondo Championships

in

Madrid

2005 : Gold Medal at the African Championship

Madagascar

2007 : Gold Medal at the 18th

World Taekwondo Championships

in

Beijing

(84 kg) as well as the trophy for MVP (Samsung Blue Passion Award).

2009: Gold Medal at the 19th World Taekwondo Championships in Copenhagen (87 kg).
---
Daba Modibo Keita est un athlète de taekwondo malien qui participe à des compétitions internationales depuis 1996. Il est devenu le champion du monde 2007 de la division poids lourd Taekwondo à Beijing et  Champion du Monde de Taekwondo à Copenhague en 2009. Daba vit aux États-Unis et nous l'avons rencontré pour une entrevue.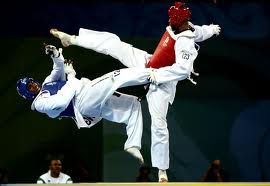 Il existe de nombreux sports de combat, pourquoi avoir choisi le taekwondo ? Qu'est-ce que cela vous apporte ?
Quand j'étais jeune, j'ai joué au football dans la rue tous les jours comme la plupart des enfants africains, mais ce n'était que lorsque nous étions en vacances. Durant la période scolaire,  je n'ai pas eu beaucoup de temps pour jouer au football, j'ai donc dû trouver un autre sport. Le frère cadet de mon père était impliqué dans le Taekwondo et il a suggéré que je prenne Taekwondo. Il a dit à mon père que je pourrais apprendre l'auto-défense et que le Taekwondo réprésentait tellement plus que de se battre : Tae signifie "coup de pied", Kwon signifie "poing" et "Do est "le chemin de la vie". C'est le « Do » du Taekwondo qui rend cet art martial si puissant pour les jeunes.
Vivre selon les principes de Taekwondo (courtoisie, intégrité, persévérance, maîtrise de soi et l'esprit indomptable) permet à une jeune personne de devenir un leader fort et un modèle. Alors mon père nous a emmené avec mes frères et sœurs au dojang pour nous inscrire, c'est comme ça que je me suis lancé dans le meilleur voyage de ma vie. Sans Taekwondo, je ne serais pas devenu l'homme que je suis. En plus de la sagesse que je reçois de mes parents, la connaissance que j'ai reçu du Taekwondo a été l'élément le plus important dans mon développement global en tant qu'être humain. J'irais même jusqu'à dire que le Taekwondo a sauvé ma vie.
Comment te prépares-tu avant une compétition? Quel est votre régime?
Comme la plupart des athlètes d'élite je dois m'entraîner trois fois par jour pour me préparer à la concurrence internationale. Mes entraîneurs, Fernando Ramos et Patrice Georges Remarck, m'ont mandaté un régime strict qui comprend le cross training avec des poids, la course de de cardio, les sprints de vitesse, le sac et les exercices Hogu pour l'endurance, la pilométrie pour l'explosivité… Et beaucoup d'étirements! Mes entraîneurs ont conçu un système de formation de pointe qui améliore la forme physique et l'agilité tout en développant une technique de classe mondiale et je me sens très chanceux de les avoir.
Je suis un poids lourd, qui est la dernière division (plus de 87 kg) et je suis un gros mangeur. En d'autres termes, je mange à peu près tout [rires], mais sérieusement, à l'approche de la compétition, je fais attention à mon régime, car il n'est pas bon d'être trop lourd en Taekwondo, on perd en vitesse. Je pèse 105 kilos et je suis assez rapide pour ma division.
Concernant le Taekwondo au Mali, qu'en est-il de sa pratique ? Que pourriez-vous faire pour influencer la situation en tant que double champion du monde ?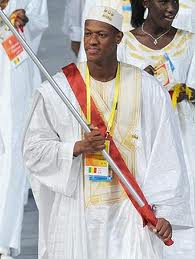 Le Taekwondo n'est pas très développé au Mali par rapport à la Corée, l'Iran, l'Espagne, les États-Unis et le Mexique … Mais comme je suis un champion du monde à deux reprises, les gens de mon pays sont devenus de plus en plus attiré par les arts martiaux et ils s'impliquent plus.  C'est excitant pour moi de les regarder parce que ces jeunes veulent être comme moi et bien plus, ce qui est génial. 
 C'est une leçon d'humilité et me rappelle toujours que les enfants regardent ce que je fais et ils peuvent essayer de me reproduire, donc je dois être responsable pour ne pas les conduire sur le mauvais chemin. En tant que champion du monde, j'ai apporté le Taekwondo à toute une nation, ce qui donne beaucoup plus d'espoir qu'eux aussi puissent eux aussi accomplir ce que j'ai accompli. Aujourd'hui le Taekwondo est 3ème sport en popularité, juste derrière le football et le basket … et je suis très fier de cela.
Après 2009, tu n'as pas pris part aux compétitions pendant plusieurs mois pour cause de blessure, comment s'est fait le retour à l'action ?
 Il est toujours difficile pour un athlète d'être forcé de prendre des congés, en fait il est navrant, surtout quand c'est pour cause de blessure, car vous vous sentez tellement vulnérable et faible. C'est comme si votre monde entier s'effondre et que vous devez e construire à nouveau. De plus il y'a tellement de facteurs qui sont hors de votre contrôle. Vous perdez de la flexibilité, de la mémoire musculaire, de la force et de l'endurance et faire revenir tout cela est extrêmement difficile.
Mon genou a été grièvement blessé en combattant pour le deuxième titre mondial en 2009 et jouant également au basket. Par la suite, j'ai eu une chirurgie mais j'ai ensuite perdu toute la force de ma jambe. J'ai donc dû reconstruire complètement ma jambe; un peu comme quand un bébé commence à marcher pour la première fois. Cela a ajouté une tension psychologique car alors j'avais une peur absolue que mon corps ne revienne jamais au niveau où il était avant l'opération. Mais par la foi en Dieu et en travaillant dur, j'ai appris à gérer la douleur et à travailler de nouveau pour être le meilleur. Lorsque vous vous définissez un objectif ferme dans votre esprit, votre potentiel devient illimité et vous faites tout ce qu'il faut pour y arriver.
Parlez-nous de votre fondation?
Eh bien, c'est pas tout à fait une fondation encore mais c'est une association sous mon nom, ADMK (Association Daba Modibo Keita). Je l'ai créé en Octobre 2008 avec le soutien de ma famille, plus particulièrement mon frère Alou Keita, avec quelques amis proches et la bonne volonté de beaucoup de gens. Notre mission est d'aider les jeunes à atteindre des objectifs à travers le sport en utilisant leurs talents individuels afin de se voir offrir une occasion semblable à celle que j'ai eu.
Vous savez, le Mali est un petit pays en développement en Afrique et de nombreux enfants ont des talents, mais ils n'ont pas cette chance d'être en meilleure condition de s'épanouir… J'ai eu cette chance, car le Comité international olympique CIO, m'a donné une bourse afin d'être en mesure de faire mon sport et c'est pour cela que je suis deux fois champion du monde d'aujourd'hui, je dois remercier le CIO pour cela et je les encourage à en faire plus, parce que c'est très utile pour nous, les athlètes africains de pays similaires …
La fondation n'est pas seulement à propos de Taekwondo. L'Association Daba Modibo Keita croit que tous les sports peuvent fournir un exutoire positif aux jeunes pour exceller. Nous avons un centre de soccer avec jeunes joueurs talentueux qui participent au Championnat national du Mali, et aussi une équipe de basket-ball, une troupe d'art et bien entendu une équipe de taekwondo. L'Association Daba Modibo Keita travaille à aider les jeunes talents à s'élever comme des étoiles. Je passe du temps dans l'organisation d'événements et le soutien de multiples endroits parce que c'est mon devoir … Une façon pour moi de donner en retour et aider à construire la communauté, qui à son tour au fil du temps pourrait aider, de reconstruire une nation entière.
Quel est votre message pour les lecteurs Afrokanlife?
Un grand merci à Afrokanlife de m'avoir donné cette opportunité! J'encourage tous les lecteurs Afrokanlife de continuer à soutenir Afrokanlife. Grâce à une collaboration constante évolution, nous pouvons apprendre à nous connaître les uns les autres et de faire de l'Afrique et du monde un endroit meilleur. Ensemble, nous pouvons planter des graines, une à la fois.
J'aimerais demander à tous les lecteurs de prier pour mon pays, le Mali et d'autres pays africains qui souffrent de troubles civils. Que ces nations puissent s'élever au-dessus de la violence et apprendre à éliminer les luttes de pouvoir. Que l'Afrique un jour guide le monde en matière de droits de l'homme et de la compassion pour tous les citoyens, indépendamment de la tribu ou de leur appartenance ethnique.
Je suis également la préparation des Jeux olympiques de 2012 à Londres, donc je vous serais très reconnaissante si les lecteurs Afrokanlife prierait pour moi de représenter le Mali et l'Afrique tout entière, avec honneur et dignité. Je tiens à remercier ma famille pour leur soutien, mon père Mamadou Keita et ma mère Alimatou Tounkara, frères et sœurs, mon beau pays le Mali, le CIO, mes entraîneurs, mes amis, mes coéquipiers et tous les gens qui m'ont aidé à devenir la personne je suis aujourd'hui.
Merci Afrokanlife et Dieu vous bénisse tous.
Réalisations
1996: Médaille d'or au Championnat Afrique de l'Ouest à Abidjan
1997: Médaille d'or au Championnat ouest-africain à Bamako
1999: Médaille de Bronze au Championnat Afrique de l'Ouest à Accra
2002, 2004: champion du Mali
2004: Médaille d'Or au Championnat Open de Paris, dans le Championnat Ouvert Ouvert internationale de Nantes et au Championnat Open de Picardie
2005: Médaille d'Or au Championnat Open de Paris
2005: trophée sportif aux Championnats du Monde de Taekwondo 17e à Madrid
2005: Médaille d'or au Championnat d'Afrique Madagascar
2005: Médaille d'Or au francophone Coupe du monde à Niamey (Niger).
2007: Médaille d'or aux Championnats du Monde de Taekwondo 18e à Pékin (84 kg) ainsi que le trophée de MVP (Prix Samsung Blue Passion).
2009: Médaille d'or aux Championnats du Monde de Taekwondo 19ème à Copenhague (87 kg).