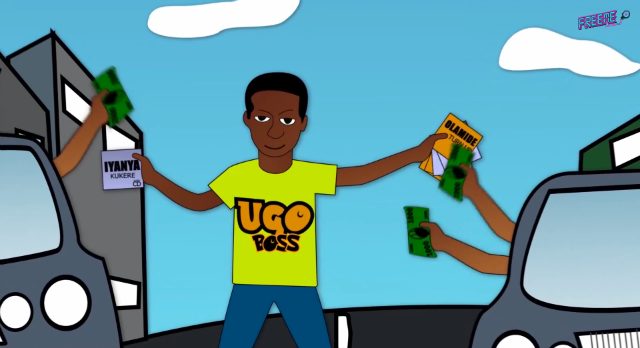 Freeme Digital is a low, flat fee service that distributes music on a 3rd party basis directly to iTunes, VEVO, Spotify, Beats Music, Google Play, Deezer and many other major download and streaming sites both local and international while taking no ownership rights from the sale of the music.
Artists are building careers, selling music and generating revenue through Freeme Digital. Since its launch in 2013, Freeme Digital has distributed thousands of tracks to iTunes and other digital stores by MTV MAMA Nominees and unsigned artists alike. Freeme Digital clients include – Olamide, Iyanya, Akpororo, Chigul, Phyno, Seyi Shay, P-Square, Oritse Femi, Burna Boy, Davido, Patoranking and Runtown to name a few. More music is released for monetization in one day via Freeme Digital than any local record label, in addition Freeme Digital recently expanded its offering to distribute music videos, pre-order tracks and instant gratification albums to iTunes and more.
http://youtu.be/16CEaH6Uft8
Enjoy Their Summer Selection
The Triple MG crew is at it again with the video shoot of their first lady EmmaNyra featuring "Omo Baba Olowo" Davido titled "Elele".
Elele is a massive tune which has redefined EmmaNyra's style of music in the entertainment industry. The mega hit is widely accepted across the nation and globally, fans are yearning for the release of the video to this mega jam.
Not to worry the Triple MG crew is putting in work to see that EmmaNyra gives her fans the best experience with the video which was shot at Inagbe Grand Resorts and Leisure, Lagos Nigeria.
Darlene Benson Cobham is back with a soulful melodious tune titled "Thank You" enjoy and share with friends.
Bompy Entertainment's front man Flyboy is back with yet another hit banger titled "Amankwa". This is a party friendly hit that is sure to keep you on your toes while doing the Amankwa dance.
The last time we heard from the young talent he was in a dope joint with the "Akpako Master" Terry G a smashing hit track titled "Fish Sound" Flyboy makes a relentless effort on this one "Amankwa". The Amankwa crooner has shown he's here to stay and definitely has something to offer in the Naija music space.
Earth Music presents their flagship artist J.L in two stunning new singles "Out of this World" and "Tonite". Ezu Chinaza Justice a.k.a J.L is a talented artist who has come to stay going by the quality of music he's putting out for the fans, "Out of this World" is an R&B flavoured tune for the one you love while "Tonite" is a hot and pacey tune to keep you on your toes and definitely a club friendly hit.
The "Local Boy" Ransome is back with another cracking tune titled "Congratulations" from the stables of Local Boy Gone International.
Ransome
 follows up his Phyno collaboration, 
"Local Boy (Remix)"
, with a fresh banger titled 
"Congratulations"
. This one is for all those celebrating one thing or the other; wedding, graduation, new-born baby, promotion, etc etc etc… Even for life itself. Congratulations!
Burna Boy is well known for churning out great hits the hit maker laid back for a while to do something great for his fans and now we see a new reassured tune from the crooner of hits like "Like to Party", "Run my Race", "Tonight" and this time "Don Gordon".
Don Gordon was shot in South Africa by godfather productions featuring lots of beautiful scenes and women, Burna Boy is surely the Don Gordon in this one. Enjoy.
https://www.youtube.com/watch?v=0giqlgCdl6o
Oluwatosin Oki a.k.a Tyson comes out with a hit banger titled MERCY. This young talent is about to take the industry by storm, with a couple of more singles dropping soon Tyson is ready to carve a niche for his music career. Working with ace producer SARZ on this mid tempo tune will definitely keep your body moving.
With his return to Nigeria from the UK, Tyson has gotten in tune with the Nigerian music industry and he brings out this mid tempo club banger titled "Mercy".
Let the music take control of you as u meditate on it… This is what we call music. A song that is be able to keep your body and soul together, a song that can take your boredom away and make you see how sweet life could be.
NONNY D is on point with this tune "Time to Party" as he serenades with a sweet Afro mixed RnB melody produced by Nonny D, mixed and mastered by Neduction. Press play
Eric Many Entertainment presents their biggest signed artist Runtown in a new freestyle video "Successful".
Runtown is on fire with the rhythmic punchlines blending so well with the "Ready or Not" sound from the Fugees. The video is an excellent delivery from Champion Studio shot in the streets of New York City.
https://www.youtube.com/watch?v=qXbWSGTQRDU
Bad Dog Entertainment presents MzKiss in a banging new video "Spatacuz".
MzKiss is a talented fast rising Yoruba femcee who's here and making a massive statement with her new banger Spatacuz.
This tune is more like a warning from MzKiss to other artists in the game "Raise your bars or MzKiss will murder y'all (Spatacuz)". This dope video shows the hunger and drive behind her music as she's determined to murder y'all.
https://www.youtube.com/watch?v=jT_4u1O3Sp8