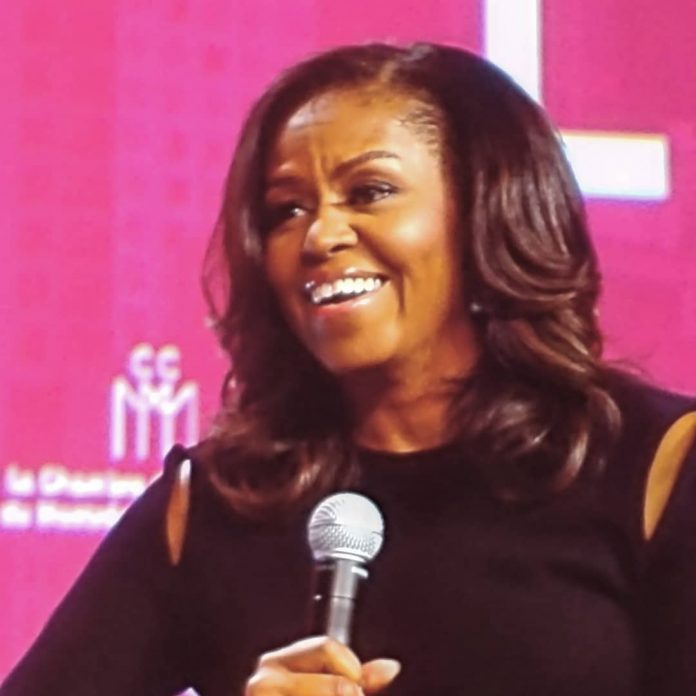 Ce mardi 5 février l'ancienne première dame Michelle Obama était la conférencière à la Chambre de commerce du Montréal métropolitain dans le cadre de la série Leaders internationaux.
Michelle Obama en ville lors d'une soirée exceptionnelle organisée par la Chambre de commerce du Montreal métropolitain.
Les 3 clés de Michelle Obama pour être un acteur de changement:
– Education: met à l'épreuve tes valeurs et renforce tes compétences pour agir sur des situations que tu juges inacceptables. "First you have to know something before changing anything" – MO
– Passion: tu ne peux pas tout faire alors lance toi dans ce qui allume le feu en toi, car une fois lancé rien ne doit te faire reculer. "My passion is not politics, my passion is social change" – MO
– Compromis: le monde n'est pas blanc ou noir mais d'une complexité grise, tout changement prend du temps. "The arc of the moral universe is long, but it bends towards justice" MO citant alors MLK.
Les 3 trucs de Michelle Obama pour réussir à changer les choses: l'éducation, la passion et le compromis.

— Lisa-Marie Gervais (@gervaislm) February 6, 2018
La soirée a réuni près de 10 000 personnes toutes émerveillées par le féminisme, l'optimisme, et le sens de l'humour de la charismatique Michelle Obama. Elle a éteint la rumeur d'un saut en politique, au grand dam de la foule.
Son livre de mémoires va sortir durant le printemps dans lequel elle reviendra sur ses sujets de prédilection: droits des femmes, éducation, justice sociale ainsi que son expérience à la Maison Blanche.
À titre personnel j'en ressors la tête fraîche et inspirée par la bravoure de cette femme, immense merci à tous ceux qui ont oeuvré pour rendre cet événement une réalité montréalaise. #CCMM #LeadersBellCCMM