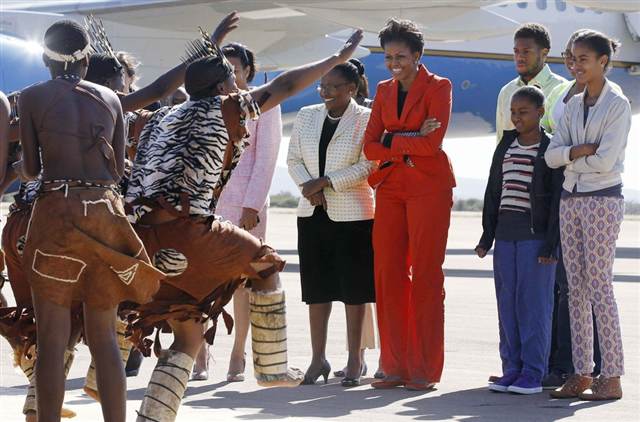 Michelle Obama in Botswana. Visiting Africa on a goodwill mission, first lady Michelle Obama defended her husband Friday against criticism that he isn't paying enough attention to the continent.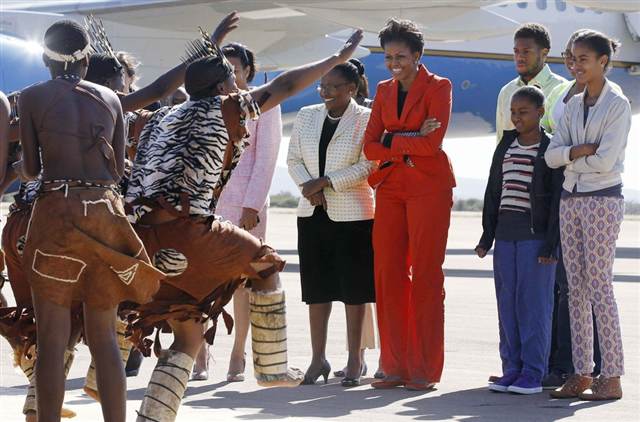 American First Lady said her weeklong trip to South Africa and Botswana is proof of the president's commitment to Africa.
"This trip is a reflection, a direct reflection, of his support and his interest and his view of the importance of Africa to the world and to the future of the world," she said. "That's why I'm here."
Given that Barack Obama is America's first black president and his father was from Kenya, many had hoped to see stepped-up U.S. involvement on the vast continent during his presidency. Africans also longed for Obama to visit so they could welcome home a U.S president they consider one of their sons.
He did visit, stopping in Ghana in 2009. But he stayed less than 24 hours and has not been back to Africa.
The first lady said people expect a lot from her overworked husband and that some won't ever think what he does is enough.
"He would love to be here but there's a lot of work to do on the domestic front," she told four American reporters traveling with her. "And as president it's hard to predict and plan internationally because you've got domestic stuff hitting you left and right".
"Africa's absolutely important to him," she added. "I understand why people feel like they want more. It's a big continent, a lot of challenges. But I think his record and the number of senior officials who've spent so much time in Africa … that is a reflection of this administration's commitment to this continent."