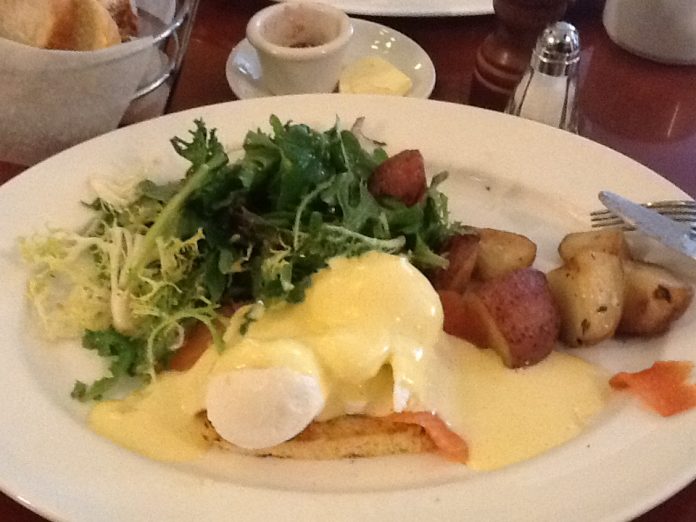 Ce restaurant français incontournable de New-York City nous a séduit par son brunch ! Nous avons été accueilli par le breton Philippe Roussel qui est le chef cuisiner de cette micro-brasserie sophistiquée.
This French restaurant of New York City has seduced us with its brunch! We were greeted by the Breton Philippe Roussel who is the head cook of the staple micro-brewery.
Le Café d'Alsace possède une carte riche dans laquelle on vous recommande de vous gâter avec la tarte au chocolat à 9 $.
Café d'Alsace has a rich menu so spoil yourself with chocolate pie $ 9.
Si vous comptez faire un tour dans ce restaurant français du Upper East Side n'hésitez pas à réserver d'avance.
If you plan to pay a visit in the Upper East Side French restaurant  do not hesitate to book in advance.
Du pain croustillant, du beurre délicieux et de la confiture faite maison!
Crusty bread, delicious butter and homemade jam!
Des croissants et pains au chocolat tout chauds et si bons qu'on les croiraient tout droit importés de France!
Croissants and pains au chocolat all hot and so good that they seem imported straight from France!
Notre repas : oeufs bénédictines et saumon!
Our meal :  eggs benedict and salmon!

Adress : Cafe D'Alsace 1695 2nd Avenue New York, NY (212) 722 5133
Prix : $$
Facebook : https://www.facebook.com/CafedAlsace/info
---
Votre clientèle-cible on l'a ! Grâce à nos centaines de milliers de pages vues par mois vous pouvez rejoindre une cible de 18-34 entre Paris et Montréal principalement francophone.Venez faire la promotion de vos services sur notre magazine et ne manquez plus aucun client. N'hésitez pas à nous contacter pour connaitre nos tarifs. Afrokanlife.com est une plateforme de choix pour votre visibilité !