Remember Gil Scott Heron. As an influential poet and musician, Scott-Heron is often credited with being one of the progenitors of hip-hop.
His collaborative efforts with musician Brian Jackson featured a musical fusion of jazz, blues, and soul, as well as lyrical content concerning social and political issues of the time, delivered in both rapping and melismatic vocal styles by Scott-Heron.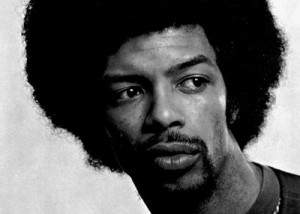 His own term for himself was "bluesologist", which he defined as "a scientist who is concerned with the origin of the blues." 
His music, most notably on Pieces of a Man and Winter in America in the early 1970s, influenced and helped engender later African-American music genres such as hip hop and neo soul.
It's impossible not to also recall his masterpiece jam, and some say, self-fulfilling prophecy, In The Bottle From his 1974 album "Winter In America".  
Bonus track : The Revolution Will Not Be Televised (Full Band Version)