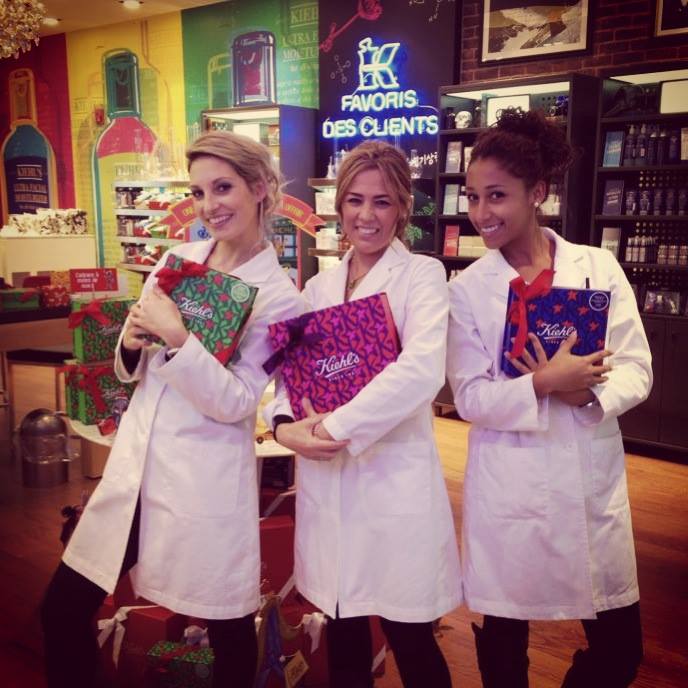 So ladies… I've been really into skincare lately! I guess since my job is more related to that it drove me to a major addiction!  Especially for Kiehl's which I recently discovered and which I want to try pretty much everything.
I actually went for the first time to a Kiehl's boutique near the rue Montorgueuil in Paris 3 months ago and had a skin diagnostic and product recommendation from the lovely expert. Since then I had a update in my skincare regiment. The first product that I tried was the Midnight Recovery Serum and let me tell you that this thing is perfection! (I'll talk about it later in the post).  So yeah basically Keihl's made me rethink my skincare routine, let's not forget about my Clarisonic (which I will review soon = waiting for a full 3 month use).
I also started some real wrinkle prevention! (Yeah!) A lot of skincare expert told me that I should start applying eye cream to prevent any age marks (the sooner the better) so I went for the Lancome Eye Genefique which had amazing reviews on the web. I also went for the DreamTone serum which I tried last summer from a sample I got in the mail.
Last but not least : two new additions : the Helena Rubinstein Powercell Mask and the La Roche Posay, Lotion Miscellaire.
Scroll down for my review! I hope it will be helpful 🙂
From left to right : All Kiehl's products
Pinapple Papaya Facial Scrub
 : I've been using this light scrub on my face for 3 weeks now and it does a pretty good job. I use it twice a week (switching with the Clarisonic Clay Mask) I apply it on my T-Zone first and work my way out onto the rest of my face. Then I let it sit for 2 minutes to let the enzymes penetrate my skin. Also I rinse it with my Clarisonic which is optionnal.
This scrub is really gentle on my skin, doesn't leave it red and has a light smell. So far my skin has less imperfections when I use it and I think I will continue with this one  for a while. Since I'm already using my Clarisonic everyday I don't want harsh products on my skin when it comes to exfoliation and I think this is a good match so far!
Midnight Recovery Eye
 : This one was prescripted to me from one of my colleagues. He basically told me that it was time for me to start applying eye cream! And since I was already in love with the serum, why not try the eye cream from the same range?
The texture is light and fresh, I only use a tiny amount and massage my under-eye circles with my ring fingers before going to sleep. I notices way less puffy eyes after my short nights of sleep and a brighter look in the morning. I don't use it everynight tough because I don't want to put my skin through too many steps. I mostly use it after long days of work during the week.
Midnight Recovery Concentrate
 : This baby is my absolute crush as far as my skincare products! I tried the sample size when I first went to the parisian Kiehl's boutique and as soon as I finished it I went for the normal size. This product is simply amazing! I use it every night on my face. A few drops are necessary, since it's a concentrated product it will last you a really long time. (I know it's pricy but it's totally worth the hype)
Basically this is a night serum, you apply a few drops and massage your face before going to sleep.
It hydrates, regenerates the skin. Good thing is that it won't leave your face "greasy" and my skin gets a healthy/natural glow the morning after. It totally recommend this product and saw the difference immediatly.
Açai Damage-Correcting Moisturizer :  Unfortunately this product is now discontinued 🙁 which is a shame because it's one of the best moisturizers I've had for combination to oily skin. Not only it has a mattifying effect but also it's organic and absolutely non-greasy which is perfect for summer when I usually don't wear face cream to avoid oily skin. Well too bad to see this go…
In flight Refreshing Facial Mist : This mist is a new product just launched  unfortunately I wasn't able to try it yet but I'm sure when the hot parisian days come I will! Of course i'll keep you posted on that!