La chaine Lifetime remet la pièce de Robert Harling "Steel Magnolias" au goût du jour avec une adaptation 100% Afro.
Steel Magnolias met en vedette six femmes très différentes, caractérisées par leurs fortes personnalités, vivant les adversités de la vie au milieu des larmes et des rires.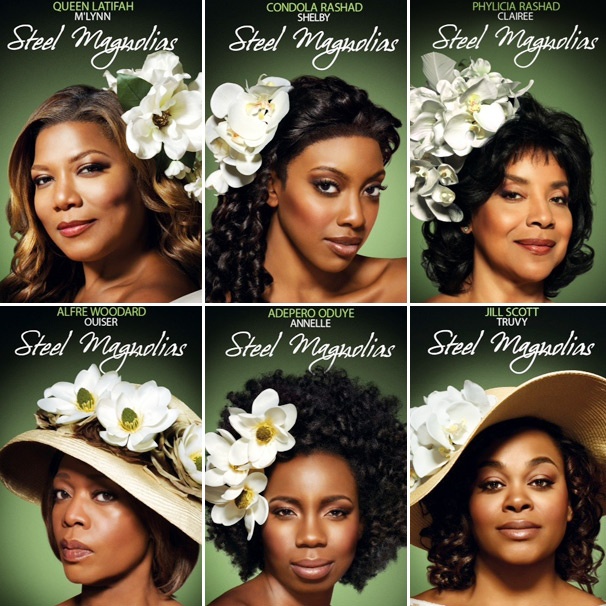 Un film sorti en 1989
L'histoire de ces six femmes toujours réunies dans le salon de coiffure du quartier va donc atteindre un nouveau public dès la rentrée automnale. En 1989, Sally Field, Shirley MacLaine, Olympia Dukakis, Dolly Parton, Daryl Hannah et Julia Roberts tenaient l'affiche.
Un casting qui fait déjà beaucoup parler.
Cette fois-ci, les femmes de la ville fictive de Louisiane, Chinquapin, seront donc 100% Afro. Queen Latifah joue M'Lynn la maman fière et Condola Rashad joue Shelby sa future belle-fille. Phylicia Rashad joue le rôle de Clairee la méchante veuve, Alfre Woodard joue Ouiser l'amie/ennemie de Clairee. Au salon on retrouve Jill Scott comme propriétaire du Truvy et Adepero Oduye sa jeune assistante du salon dans le rôle de Annelle. Si Dolly Parton a déjà exprimé son inconditionnel soutien, les réactions n'ont pas tardé à sortir sur Twitter notamment :
Umm just saw a commercial for a remake of Steel Magnolias….. Why remake a classic. Excuse me, you don't do that to Julia Roberts.

— Whitley Simpson (@whitleyseastar) Septembre 8, 2012
I'm too excited for the all African American cast of Steel Magnolias!

— Amber Waves (@Amber_so_Quirky) Septembre 8, 2012
Can't wait to watch this! #SteelMagnolias' Will Premiere On Lifetime On October 7 huff.to/QKOZub via @huffposttv

— PichelleTVFit (@IAMPICHELLE) Septembre 8, 2012
They re-made the movie steel magnolias….. It will never be better than the one Julia Roberts/Dolly Parton starred in.

— Nicole Zadlo (@Nicole_Zadlo) Septembre 8, 2012
a black version of steel magnolias!!! Lifetime is #winnng

— Miss Paula™ (@tropicana1282) Septembre 8, 2012
Regardez le trailer et dites nous que pensez-vous de ce remake ?