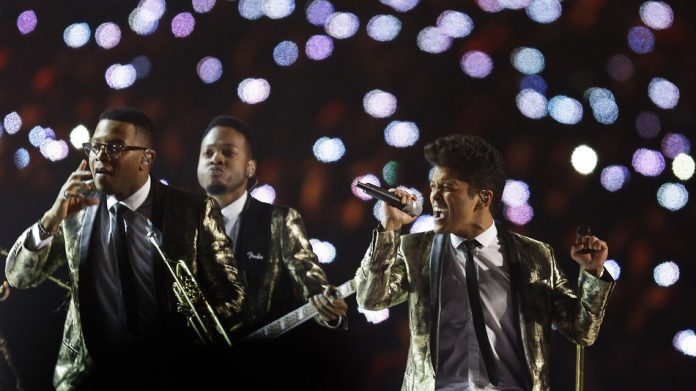 Bruno Mars a proposé un show spectaculaire à la mi-temps du Super Bowl ce dimanche avec l'aide des 8 membres de son groupe, The Hooligans, et aussi des Red Hot Chili Peppers.
Mars est le plus jeune artiste de l'histoire à avoir animé le show du Superbowl. La star de la pop âgé de 28 ans a entamé sa performance en batterie par "Billionaire," une chanson de Travie McCoy sur laquelle il apparait en 2009, avant de poursuivre avec son célèbre "Locked Out of Heaven."
Mars, qui a été nommé artiste 2013 par le Billboard, a enchainé ces musiques par "Runaway Baby." et "Just The Way You Are," avant l'hommage des troupes américaines à leurs familles.
http://www.youtube.com/watch?feature=player_embedded&v=hX3YLz6QOP8
Avant le show, Bruno Mars a informé ses 17.6 millions de followers Twitter d'utiliser l'application Shazam durant la mi-temps. Ceux qui l'ont fait ont reçu une vidéo exclusive de lui performant"If I Knew" à Paris dans le cadre de sa tournée "Moonshine Jungle".
L'an passé, plus de 110.5 millions de téléspectateurs aux États-Unis ont regardé la performance électrique de Beyonce, qui avait aussi été diffusée à travers le monde entier.