Tupac est vivant (enfin presque) à Coachella en Californie !
Jolie prouesse technique de Snoop qui se fait accompagner par l'hologramme de Tupac Shaqur ! Où ca ? À Coachella en Californie.
Le duo interprète « Hail Mary » et « 2 of Amerikaz Most Wanted » pour le plus grand bonheur des fans qui ne s'attendaient certainement pas à une telle surprise.
On se souvient que le procédé avait déjà été employé pour diffuser un concert de Mariah Carey dans 5 villes européennes ! Ce sera quoi la suite ?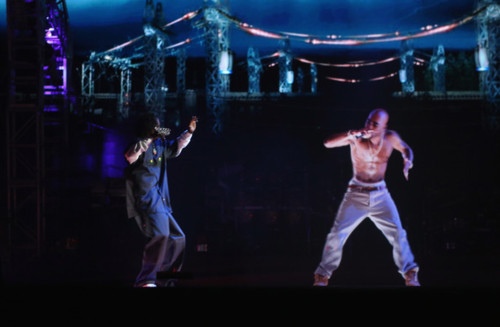 ---
Pretty Technical prowess by Snoop who was accompanied by the hologram Tupac Shaqur ! Where at ?  At Coachella in California.
The duo performed "Hail Mary" and "2 of Amerikaz Most Wanted" to the delight of fans who certainly did not expect such guest.
This hologram process had been used to broadcast a concert of Mariah Carey in 5 European cities! What's next?