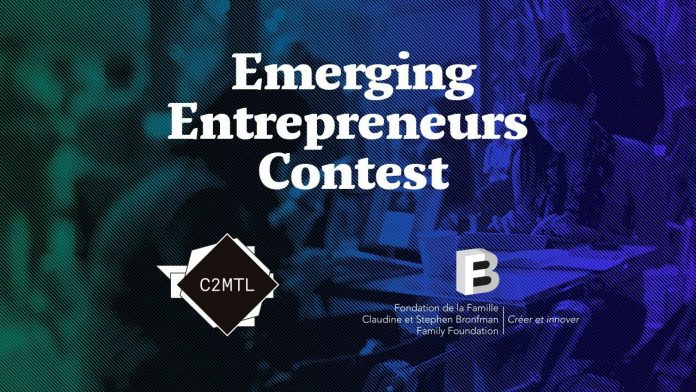 The Claudine and Stephen Bronfman Family Foundation and C2MTL launch the third edition of the Emerging Entrepreneurs Contest, intended to recognize and reward the talent, dynamism and creativity of 25 entrepreneurs making their contribution to the evolution and innovation of the Québec business sector.
To be eligible for the contest, entrepreneurs must have been at the head of an active company for three years or less, and submit their candidacy by filling out a form available online, before Friday, April 4, 2014. 25 winners will then be selected by a jury of professionals appointed by the Claudine and Stephen Bronfman Family Foundation. The 25 winners will be unveiled on April 15.
The winning entrepreneurs will not only participate in all C2MTL activities free of charge, but will also benefit from a custom-built program with a grand total value of $90,000. They'll enjoy the opportunity to meet a number of our star speakers and participate in discussions and workshops alongside leading figures working in the sectors of commerce and creativity. "We are happy to actively contribute to this initiative, which encourages the growth and reputation of innovative and creative young entrepreneurs," said Claudine Blondin Bronfman, co-president of the Foundation.
Success Stories
Indeed, many winners from previous editions have testified to the benefits and support the Emerging Entrepreneurs Contest has contributed to the evolution of their business. One enlightening example involves Mohamed Hage, founder and president of Lufa Farms, who revolutionized the concept of green urban food harvesting, and has watched his approval rating climb among investors in the wake of his many nominations. Michael Lenczner of Ajah reveals that he had the opportunity to present his product to members of the Bill & Melinda Gates Foundation and the World Bank thanks to the profile of C2MTL and the Claudine and Stephen Bronfman Family Foundation. Ilana Ben-Ari, of Twenty One Toys, adds: "We have raised over $52,000 thanks to a Kickstarter campaign to produced one thousand Empathy Toys, which will be shipped all over the world." Jeffrey Dungen of reelyActive states, "We were honoured with the title World's Best Technology Startup at the Startup World Global Grand Finale. We have more impact than ever." LP Maurice, CEO of Busbud concludes: "Our team now numbers 20 employees, we've raised 1.5 million in venture capital, we are rapidly expanding at the international level, and we were named one of the 20 most innovative companies in the country."
About C2MTL
C2MTL is a non-profit organization aiming to reinvent the concept of the annual international conference, in order to better explore the "commerce-creativity" dynamic as well as its potential to redefine the business world. Every year, this three-day immersive event assembles renowned innovators from varied backgrounds. Participants are plunged into an intellectual and experiential environment that stimulates the left and right sides of their brains in order to develop their creative leadership skills. C2MTL features a tremendous variety of non-traditional experiences including presentations by renowned speakers, interactive exhibitions, multimedia presentations, collaborative workshops and a creativity Boot Camp, held in a unconventional "Innovation Village" conceived exclusively by and for C2MTL.