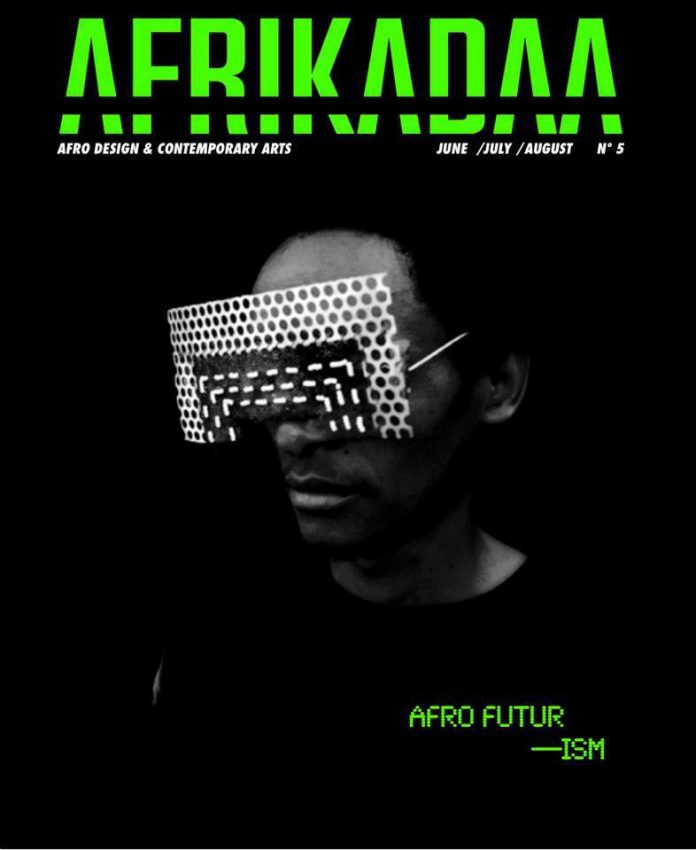 For it's 5th issue AFRO-FUTURISM AFRIKADAA invites you to a cosmic tripp in borders of an outstanding artistic universe. The Afro-futuristic theme is an opportunity to look out to the past, to investigate the present, and to imagine the future.
In this issue the magazine pay a tribute to Sun Ra, a legendery character comming from saturne. A genius which had a very prolific musical career (more then two thousand albums).
To honor this symbolic artist and celebrate Afrofuturism, The collective AFRIKADAA took you on May 27th on a spatiotemporal journey the first stopover of which is a live editorial act punctuated by the projection of the movies of the artists Marc Johnson and Kapwani Kiwanga, and the performances of Edem Allado (accompanied by the choreographer Nawel Oulad), and Holly Bass.
On May 30th, 2013, the space ship makes a musical stopover with a mix tribute to Sun Ra concocted by the great Smokey and broadcasted by Radio Nova.
You will find in the ART TALK section
Afrofuturism : a metaphisical deconstruction, an original equation. A reflection of Kemi Bassene on Afrofuturism
You will discover or re-discover Sun Ra's legacy through :"The Myth of Sun Ra : Space is the Place cries Afrofuturism" by Frieda Ekotto and Anne Gregory's article "Who Ra?"
"The next narrative" by Jean Pierre Bekolo. The Cameroonian project us in his vision of afica's cinema futur.
Can we talk about a futuristic practice of contemporary art in Cameroon? Ask Landry Mbassi
Yinka Shonibare : A(rt) lien by Julie Crenn
Destins noirs – Dynasties blanches de Patrick de Lassagne
Chassol, in this anterior life by Camille Moulonguet
Camille Moulongue makes the state African photography place in the global art market
Remix Africana: Computational Code in the Generation of "Art" by Mukwae Wabei Siyolwe.
Lowtech solutions for High tech challenges by Olivia Anani
Utopia… Anonymous by Louisa Babari, an interview with Mohamed Bourouissa
« Les particules picturales d'Edem Allado » by Pascale Obolo
"The man who discovered the world" by Louisa Babari
In PLACES
Pascale Obolo met the founder and director of Chimurenga Magazine, Ntoné Edjabe, to discuss is « Panafricanspacestation » project.
In CONCEPT
Artist Michèle Magema proposes "Duplicity", an artistic stylistic composition with the artist Vitshois Mwilambwe, inviting him to share is " cosmic visions ".
Without forgetting, the tribute to Betty Davis by the talented Holly Bass, under the shape of two poems.
In PORTFOLIO
We will presente the works of two unusual artists: Marc Johnson et Paul Sika.
The FOCUS section
For this issue, the editorial board of AFRIKADAA chose to make a focus on the work of Kapwani Kiwanga, and particularly on her tribute-project entitled "The Sun Ra Repatriation Project".
Dans la section ARCHITECTURE
Meeting with the Senegalese artist Mamadou Cissé who share with us his "afro-optimism" on the future of African cities.
Dans la section DESIGN
Interview with one of the rising values of the design made in Kenya: Cyrus Kabiru (on the cover of this issue).
In CARNET DE BORD
An exclusive interview of Paul D. Miller (alias DJ Spooky) who share with us his personal point of view on its domains of preference that are art, music and politics.
In EXHIBITION REVIEW
Sonia Recasens returns on a selection of artistic events which stood out these last months.
AFRIKADAA'S PLAYLIST
To conclude your reading, listen to the special AFRO-FUTURISM playlist concocted by Kool Koor !
Enjoy your journey: « Space is the Place [to be] » !
To read the issue click on the link below
http://www.afrikadaa.com/p/la-revue.html
First francophone webmagazine specialized in afro contemporary art, architecture and design.