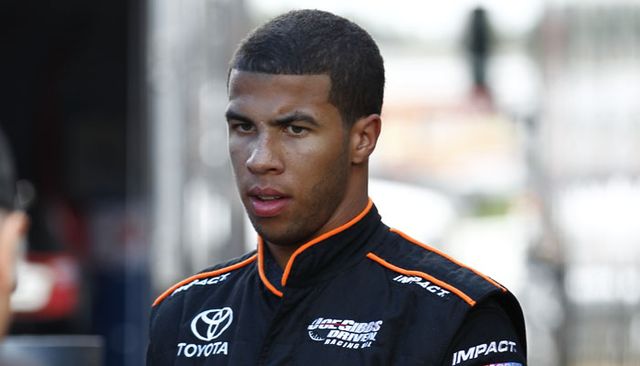 It took nearly half a century, but an African American driver has reached Victory Lane in a national NASCAR series race for only the second time.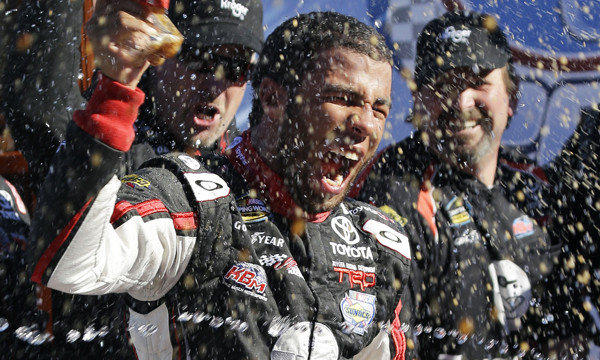 Darrell Wallace Jr., 20, won the NASCAR truck race Saturday in Martinsville, Va., the only black driver to do so since the late Wendell Scott won a race in December 1963 in what is now the NASCAR Sprint Cup Series.
"I'm speechless right now," Wallace told reporters at Martinsville Speedway. Wallace said Scott, a native of nearby Danville, Va., "was watching over me this race. It all goes to him."
Wallace, a rookie in NASCAR's Camping World Truck Series, won the Kroger 200 in his No. 54 Toyota Tundra after leading a race-high 96 laps.
"We congratulate Darrell Wallace Jr. on his first national series victory, one that will be remembered as a remarkable moment in our sport's history," NASCAR Chairman Brian France said in a statement.
NASCAR has been closely watching Wallace's progress because no African American currently drives full time in NASCAR's premier Cup series or its second-level Nationwide Series.
The truck series is NASCAR's third-level national series and, even before his win, Wallace was considered the sport's best African American hope to make it to the top.
NASCAR nearly a decade ago started its "Drive for Diversity" program to help develop minorities and women in racing, and Wallace — nicknamed Bubba — is one of the program's graduates.
An Alabama native who grew up in the Charlotte, N.C., area where most NASCAR teams are based, Wallace is a member of the Joe Gibbs Racing team. He is driving trucks prepared by Cup star Kyle Busch's truck team.
"This is certainly a monumental day and hopefully one that he'll remember for a long time and can cherish," Busch said of Wallace.
Wallace was having a steady, competitive season when he arrived in Martinsville, with 10 top-10 finishes through 18 races.
After his victory and post-race interviews Saturday, Wallace went on Twitter with a simple message: "We came. We saw. We conquered."
Source : Jim Peltz, Los Angeles.