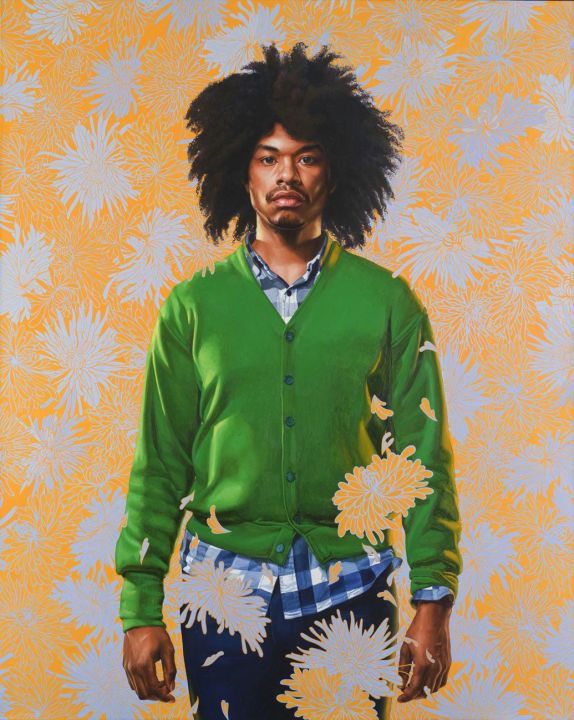 Artiste prometteur et multi-cartes, l'américain Kehinde Wiley détonne dans le monde de l'art avec ses tableaux sous fond de papier peints reconnaissables au premier regard.
Originaire de Los Angeles, il est annoncé comme l'artiste le plus fécond de sa génération. Il a notamment peint des portraits de Michael Jackson et depuis 2006, dans le cadre de son projet The World Stage, ce diplômé de la prestigieuse université de Yale arpente le globe, des favelas de Rio aux faubourgs d'Abidjan en passant par l'Ethiopie, pour organiser des castings sauvages.
Il rencontre des jeunes noirs ou métisses et peint des portraits saturés d'ornementations et de références à la grande peinture classique comme le peintre David qui a immortalisé entre autres le sacre de Napoléon.
Ses œuvres sont présentes dans de nombreuses collections publiques dont le Brooklyn Museum of Art et le Metropolitan Museum of Art à New York et ses collections s'exposent un peu partout aux Etats-Unis.
Ses oeuvres sont actuellement exposées dans une galerie parisienne, pour la première fois en France. À Paris, l'artiste met en avant la culture africaine et retrace dans ses toiles l'histoire coloniale française en explorant le Maroc, la Tunisie, le Gabon, le Congo et le Cameroun.
> Exposition The World Stage (1880-1960) de Kehinde Wiley  du 27 octobre au 24 décembre à la Galerie Daniel Templon (30 Rue Beaubourg, Paris, IIIe).