Eclectic Goodies is a party favors and gifts packaging company. They provide personalized, products and services tailored to meet your taste. We have the chance to sit and meet with the founder Nike Campbell-Fatoki.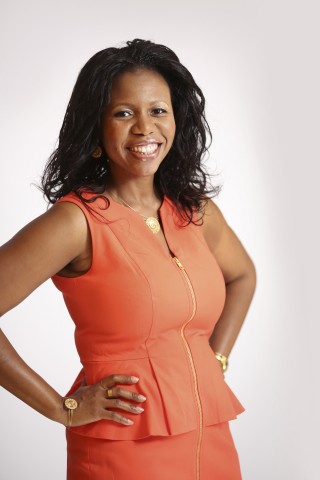 Hello Nike, introduce yourself to our readers.
I'm Nike Campbell-Fatoki from Lagos, Nigeria now residing in the Washington DC area, USA. I am a Budget and Finance manager, a published author of Thread of Gold Beads and founder and creative director of Eclectic Goodies. I am also a wife and mother of three boys.
Why did you choose this name "Eclectic Goodies"?
I was looking for a word that would best describe who I am and my company. I'm inspired by ideas, styles and tastes from diverse sources. The word Eclectic encompassed that. Now Goodies is just another word for my favorite things/gifts. The two words clicked when I put Eclectic Goodies together.
How did you start Eclectic Goodies?
Starting Eclectic Goodies was a process. I noticed that when I attended events, guests were not receiving gifts that spoke to the occasion and/or appreciation of the guests. Guests take time out of their busy schedule to attend events and they should be appreciated. By giving away favors that have a uniqueness to them, it shows the thoughtfulness on the part of the host in appreciating guests. I wanted to bring that to life.
I began helping friends and family with ideas on favors years ago. I derived pleasure from coming up with ideas that really came to life. I decided to start the company when I realized my passion waxed stronger.
I started Eclectic Goodies by developing a vision of what I wanted. It would be a company that provided a unique selection of favors and gifts. The sole goal of this company is to satisfy the needs of customers, make their occasions stand out from the ordinary by bringing the unique, personalized touch to their favors. I set my favors apart by asking specific questions about the occasion, the celebrant and the atmosphere my clients wanted . Eclectic Goodies goes the extra mile in ensuring that favors are the talk of the party.
When did you start to put it in place?
In the Spring of 2011. I determined how much I needed to start the business, my target markets and also developed a long-term plan. I realize that personalized favors would someday be a saturated market. To survive, Eclectic Goodies, like anything else in life has to evolve. My love for home interior decoration has always been there. I love decorating my home. I decided to explore the market. I designed my debut fall collection of The home interior accessories which will be introduced October 5, 2013.
There's a lot of available products already! What are your inspirations and your influences in general ?
Thank you. My inspiration is the happiness and satisfaction of clients. My greatest influence is my mother. She is the epitome of dignity and grace when it comes to entertaining guests. She is also the neatest person I know. She takes care of making the minute details of any space, gift and even preparation of food stand out. I watched all this growing up and took note.
How do you maintain this inspiration?
I call my mom! But seriously, I do ask her for advice on all a lot things. I also maintain my inspiration by seeing what's out there in the market and talking with people to find out what their needs are. I pray and always try and keep things in perspective.
How do you get from the design to finished product?
I draw my designs on paper. I'm not the best artist, but I've always enjoyed drawing. My ideas have to be practical in terms of sewing, so I show my designs to the tailor I work with and discuss the best dimensions, and the best materials to use. A sample is created and inspected before mass sewing is done.
Your latest collection will be African-inspired. Where do your fabrics (e.g Ankara) come from ? Talk a little bit about some materials that you'll work with?
Ankara is found in Western Africa. I come from Nigeria and ankara is one of the most widely used materials. It's really abstract designs in any color imaginable in cotton material. I'm working on several other material types which will represent the entirety of the African continent.
Why is it important to celebrate African culture through fashion or design?
Fashion and design are a way of life. When we infuse African culture and art into our way of life, we celebrate ourselves. If we don't celebrate ourselves, who will?
You create objects but this is not your only activities, walk us through a typical entrepreneurial day for you.
I follow up on inquiries about my services for those planning events, send out quotations and work on more designs for the home décor line. However, not one day is exactly like the next. That's the fun thing about it.
What do you like the most about your job?
I like the creative and business aspects of the job. I'm in a unique position where I actually like working with numbers, which I realize creative people don't like to do, but must to stay in business.
What advice could you give to young entrepreneur in your field ?
I have a new saying which I just created specifically for the Eclectic Goodies Home Décor line. "Style is a state of mind…create yours." There are no limitations to creativity. Nothing is really out of bounds. You need to stretch yourself and design something that will set you apart.
Through your initiative you seek to empower young African women, how so ?
The African woman is very dear to my heart. The sad part of it is that many African women don't know their worth. We are talented, beautiful, creative, resourceful, need I go on? We are Queens. I seek to empower particularly the young African women because they are at the stage where they can still be taught to be self-reliant, building on their own skills and talents and being able to stand on their own two feet. It's a good time to teach them that they don't need to rely on anyone to make it. I presently work with a young lady who is a skilled tailor, starting out her new tailoring outfit. She is very talented, but unless people hear about and see her work, how would she be acknowledged and better yet, financially rewarded? That is my goal, to empower the young African woman. Once she's empowered, there's no stopping her. Her children will be cared for, and educated, positively affecting generations of Africans to come.
What is next? Projects, challenges what you planned for 2014?
I am excited about what the future holds. I am exploring the use of African fabric in areas that have never been thought of before. There will be a Spring collection of home décor coming out soon and I look forward to unveiling it.
Now, three questions to know you better
1 – What is your favorite home decoration website
I don't have a favorite website. Remember I said I had very eclectic tastes. I do enjoy visiting Homegoods, Kirklands, Pier 1 to name a few.
2 – Is there any country in Africa that you have not visited and you would go see?
I would love to visit South Africa, Kenya, Ghana, Sierra Leone to name a few. They are too many to name. Africa is vast and rich in cultures, I would love to spend time in many of the countries and soak it all in.
3 – Just give us three items that you could not live without?
Toothpaste, soap, face towel.
That's 3 useful items indeed (Laughs). Last question, If I Say "Afro Inspiration" What comes to your mind?
Hair/lifestyle inspired by Africa.
Thank you Nike for your time !
---
More information :
Eclectic Goodies website : www.eclecticgoodies.com
Etsy : https://www.etsy.com/your/listings?ref=si_your_shop
Eclectic Goodies facebook page : www.facebook.com/eclecticg
Mail : eclecticgoodies@yahoo.com
Phone number +1 (202) 271-8252