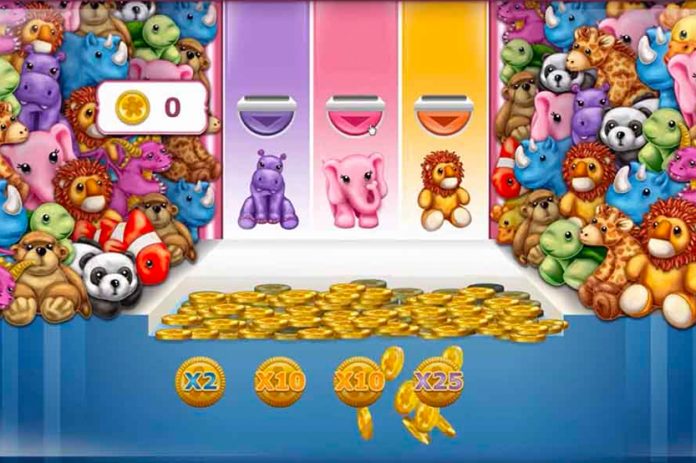 Take yourself back in time to your favourite childhood place – the beach surrounded by cute, cuddly toys and eye-catching beach huts. Fluffy Too slot combines all the fun of the beach with all the fun of a classic slot machine game. From the creators that brought you Fluffy Favorites Eyecon have recently brought out Fluffy Too as its sequel. Fluffy Too is bigger and better than it's original with HD graphics, brighter colours and some extra special features that make this game's gameplay super exciting. You'll be able to play for higher stakes and have even more fun than before.
Based on the classic system of 5 reels and 25 lines, you'll be able to place bets from £0.01 to £0.50 with 1 to 25 lines. You'll be able to enjoy your slot machine fun all while chilling out at the beach.
For those who've never played Fluffy Favourites Slot before, the Fluffy series, from Eyecon, features a bunch of adorable fluffy and cute animal symbol characters. In this sequel Fluffy Too all of your favourite symbols are back like the pink elephant, yellow duck, clown fish, tortoise, a purple hippo, giraffe, a monkey, lion, panda and our favourite, the purple dragon! You best keep an eye out for some of these certain symbols, as despite their cuteness some are worth more than others.
If you're looking for the symbol that will add a little bit extra fun to your game, you'll be happy to see the pink elephant! The pink elephant is a super special symbol in this game. If you find one of these elephants, the symbols on your board will be swapped for the scattered coin. In some occasions though, if the elephant is on reels 3 – 5 you'll be able to trigger up to 25 free game spins! The best part about free game spins is that every time you win, your payout will be three times the regular payout!
One of our favourite parts of this game is the coin pusher feature, this allows you to pick up coins, up to 100x in one game. To unleash the coin pusher, you'll need to have three or more coin symbols on your reels.
Another feature to look out it the Gamble bonus round! If you're lucky enough to come across this gamble round, you'll get the chance of picking between two elephants. Be careful about what elephant you chose though as this round is double or nothing. Play your chances right though, and you'll be able to get this feature 5 times and win up £32,000, but if you pick the wrong elephant, you'll be walking away with nothing.
For anyone yet to know the fun that the Fluffy series can bring to you and your slot gameplay we'd definitely recommend Fluffy Too!