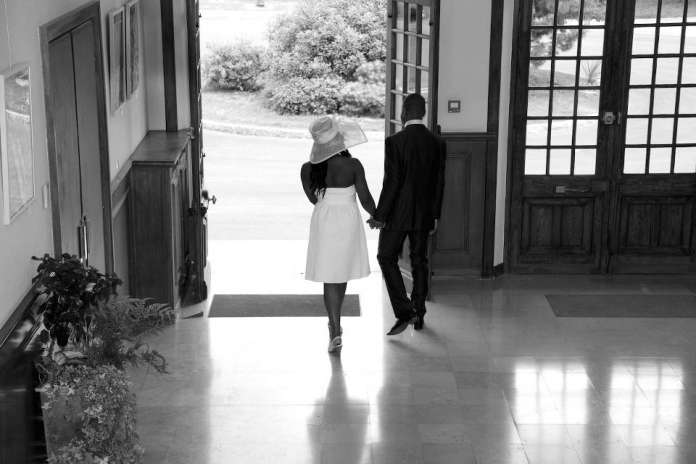 Who knew I would one day question this undeniable love I have for you? Who knew I would be at a crossroads after everything we've been through? Who knew my patience would slowly run out, that my drive would slow and the twinkle in my eye diminish? You reconquered me recently and all through the year you teased me, told me how great things could be, told me you were looking forward to seeing me, told me I was still important to you. In one of our last conversations, you said, "Nina, now is not the time to give up on me. I am almost there". But you see, that is the problem, potential for days to come with no real realizations. It is always, "almost" with you. Well, "almost doesn't count". I am t-i-r-e-d. Tired. Can you understand that?
It is easy to love. I should know, I fell in love with you from day one. The hard part is staying in love. It is almost as if you are punishing me for going away all those years, as if you gave yourself to another and you no longer have space for me. I felt you slither away this December, those whispering words I often heard from you were no longer there. I felt your warmth and your love was cooler, those encouraging words no longer constant. A part of me understood that 29 years later, it was perhaps time to make a decision. A decision to come and stay or a decision to leave. A decision I have no idea which way am leaning.
But how can I make that choice? If I stay, I still feel like you can't give me what I need. That my needs are way beyond your capacity to fulfill them.  We are still getting to know each other, (ironic because it is so many years later) and some things you do drive me up the wall. It makes no sense to me that the simplest things are often the hardest for you to comprehend. That my courtesy is greeted with aggression, that my smile is sometimes welcomed with silence and other times frustration. I honestly thought we were passed that. Seeing you was so bitter sweet.  Two years ago, I promised to let you soar, to let you come back to me willingly… Two years ago, I never imagined my heart would pump this much in anticipation, beating as fast as the hopes and dreams I have been making in my head (waiting for you to get there, that there where we were both headed). And then, sitting there with you, it all came crashing. Your half ambivalent reception left me yearning and searching. Your shielded indifference at my excitement. Part of me hoped you would still look at me the way you used to, with continued longing, with reassured wanting. Part of me hoped that the things I had learned elsewhere would make me the perfect match for you, but your brothers and sisters laughed me off with disdain. All they said was "you'll end up like us.", "Who do you think you are?",  "What makes you so different?", "You think we didn't have big dreams just like you?", "You can't change him. That's the way he is." There was so much finality in those words, like they didn't believe in us, like they didn't think that I could make a difference in our lives, that together, You and I could be a driving force.
Could this be the end of our season, our story? Are we doomed to an eternal life of "what ifs" and "we should haves"? I can't bear to fathom it. There must be more, Love truly is not enough. Perhaps, I need to go and work on myself a little more. I need to understand myself better so that I can work at us, because my unconditional love is simply not enough. For your erratic, you need my cool, calm and collected. For those days when you are submerged by the bureaucracy and corruption that is, you need me to be precise, firm, organized, transient and decisive. For the things that even you can't comprehend, you need me to mobilize others around me – that we may do things as a group, and forget our individualism. And on the days when your fathers, mothers, aunts and uncles think it is okay to take everything from you, leaving us with nothing, you need me to speak up. To always speak up, even when I don't think I am being heard.
Am I up to the challenge? It seems that you have done your part, and now it's up to me to decide, to jump. To finally come home, to be by your side without any question. To be your ride or die. You still make me feel some type of way Mr, I can't give up on you, not just quite yet, we will find our balance. And no matter how many obstacles get in our way, I am ready to fend each and everyone of them off. Will you allow me?
The way you make me feel part 1