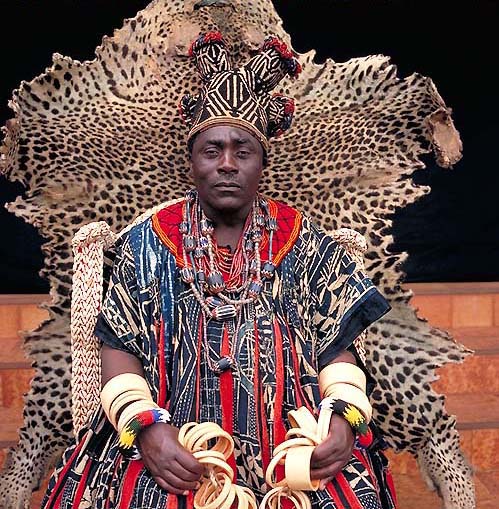 African Kings: Portraits of a Disappearing Era by Daniel Lane
From 1988 to 1991, French photographer Daniel Laine photographed 70 African monarchs, "whose dynasties marked the history of Africa until the middle of the twentieth century." With hundreds of monarchs to choose from, Laine focused on those who continued to "retain a traditional and spiritual authority that is difficult for the Western mind to comprehend."
Laine recalls the difficulties of getting permission for the photographs, the sensitive diplomatic negotiations involved in many cases. A war in Sudan prevented Laine from photographing the king of Shiluk, a descendant of black dynasties that ruled Egypt. Others, including the king of Swaziland, declined to be photographed.
With each striking photograph, Laine provides a brief biography and historical notes about the tribe and its rituals. Among those photographed are Chukumela Nnam Obi II, the Oba of Ogba, Nigeria; El Hadj Sheehu Idris, emir of Zaria, Nigeria; and Goodwill Zwelethini, king of the Zulu, South Africa. The book includes historical background by Pierre Alexandre on the origins and significance of African kingdoms.
If any history buffs have more details, please let us know in the comments below!
The Kings of Africa : 18 Fascinating Portraits by Daniel Laine
Joseph Langanfin –Benin
Oni (King) of Ife – Nigeria
Ngie Kamga Joseph – Fon of Bandjun – Cameroon
Halidou Sali – Lamido of Bibemi – Cameroon
Oseadeeyo Addo Dankwa III – King of Akropong – Akuapem – Ghana
Abubaka Sidiq – Sultan of Sokoto – Nigeria
Hapi – VI – King of Bana – Cameroon
Nyimi Kok Mmabiintosh III – King of Kuba – D. R. Congo
Igwe Kenneth Nnaji Onyemaeke Orizu III – Obie Of Nnewi – Nigeria
Isienwenro James Iyoha Inneh – Ekegbian of Benin – Nigeria
Agboli-Agbo Dedjlani – King of Abomey – Benin
goodwill Zwelethini – King of Zulu – South Africa
el Hadji Mamadou Kabir Usman – Emir of Katsina – Nigeria
Bouba Abdoulaye – Sultan of Rey-Bouba – Cameroon
Aliyu Mustapha – Lamido of Adamawa – Nigeria
Oba Joseph Adekola Ogunoye – Olowo of Owo – Nigeria
Between the years of 1988 and 1991, French photographer Daniel Laine spent about 12 months on the African continent tracking down and photographing figures of royalty, and leaders of kingdoms. During this time he managed to photograph 70 monarchs and descendants of the great African dynasties with his work on this series.
Have a look at more photos of african people or designs in our archive.