La star de Nollywood Genevieve Nnaji a été cité dans la liste International Superstars: The Next Big Crossover Acts publiée par le magazine Elle.
La version américaine du magazine de mode fait la liste des stars du divertissement (non-américaines) les plus susceptibles de rayonner à l'échelle internationale. On retrouve pêle-mêle Kim Hyuna de la video Gangnam Style, Katrina Kaif vedette de Bollywood, Haifa Wehbe chanteuse du Liban, l'actrice indienne Aiswarya Rai Bachchan, Pixie Lott du Royaume-Uni et la chanteuse mexicaine Anahi.
Nigeria : Genevieve Nnaji star de Nollywood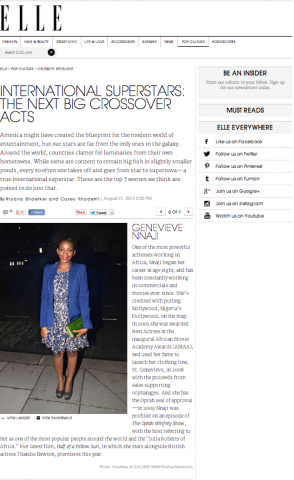 Au sujet de la vedette nigériane voici ce que déclare le journal :
L'une des actrices les plus puissantes d'Afrique, Nnaji a commencé sa carrière à huit ans, et travaille depuis dans des publicités et des films. Elle est reconnue pour avoir mis Nollywood, Hollywood du Nigeria, sur la carte.
En 2005, elle a reçu le prix de la meilleure actrice au African Movie Academy Awards (AMAA), et a utilisé sa notoriété pour lancer sa ligne de vêtements, St. Geneviève, en 2008, avec la particularité de reverser le produit des ventes à des orphelinats.
En 2009 Genevieve Nnaji est approuvé par Oprah qui la qualifie de "Julia Roberts de l'Afrique." en plus de reconnaitre sa popularité mondiale dans un épisode de The Oprah Winfrey Show.
Son dernier film, Half of Yellow Sun, dans lequel elle joue aux côtés de l'actrice britannique Thandie Newton, sort dans les salles cette année.
Et vous que pensez-vous de Genevieve Nnaji ?
Genevieve Nnaji I love you

— Physics Dude (@nonso2jags) August 21, 2013
How can you not love Genevieve nnaji

— kelly rhymez (@Kelly_rhymez) August 20, 2013
Bonus vidéo Half of Yellow Sun avec Chiwetel Ejiofor, Thandie Newton et Genevieve Nnaji :
Photo: Courtesy of CHC/ZDS WENN Photos/Newscom