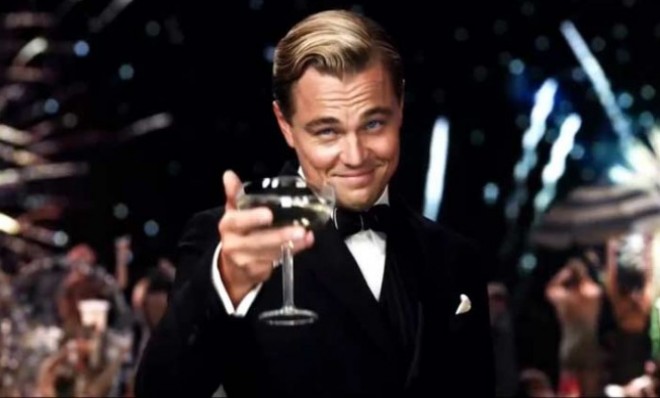 Les nominations des Oscars 2016 sont tombés, nous l'attendions tous. Pourquoi ? parce que king Leo Di Caprio n'a toujours pas eu son oscar!  La semaine dernière le plus en vu des dad boy a remporté le Golden Globe du meilleur acteur pour son rôle dans The Revenant.
Cette année la tâche ne sera pas simple, son adversaire direct est l'acteur principal du film de Danny Boyle, Steve Jobs, Michael Fassbender. Pour ce qui est des autres prétendants, on retrouve Matt Damon avec le film Seul sur Mars, Eddie Redmayne dans The Danish Girl, ainsi que Bryan Cranston dans Trumbo.
Leonardo DiCaprio – The Revenant
Michael Fassbender – Steve Jobs
Eddie Redmayne – The Danish Girl
Bryan Cranston – Trumbo
Matt Damon – Seul sur Mars
Les autres
Les Huit Salopards de Quentin Tarantino est cité pour sa bande-originale, ses costumes et la pétillante Jennifer Jason Leigh en tant que second rôle. Côté Star Wars : Le Réveil de la Force, on retrouve l'enfant abandonné par Georges Lucas à Disney dans les catégories meilleur montage, meilleur effets spéciaux, meilleur son et meilleur bande originale.
Toutes les nominations
Meilleur film :
Spotlight
The Big Short
The Revenant
Seul sur Mars 
Brooklyn
Mad Max : Fury Road
Bridge of Spies
Straight Outta Compton
Room
Meilleur réalisateur :
Alejandro G. Iñárritu – The Revenant
Adam McKay – The Big Short
Tom McCarthy – Spotlight
George Miller — Mad Max : Fury Road
Lenny Abrahamson — Room
Meilleure actrice :
Brie Larson – Room
Saoirse Ronan – Brooklyn
Cate Blanchett – Carol
Charlotte Rampling – 45 Years
Jennifer Lawrence — Joy
Meilleur acteur :
Leonardo DiCaprio – The Revenant
Michael Fassbender – Steve Jobs
Eddie Redmayne – The Danish Girl
Bryan Cranston – Trumbo
Matt Damon – Seul sur Mars
Meilleure actrice pour un second rôle :
Alicia Vikander – The Danish Girl
Kate Winslet – Steve Jobs
Jennifer Jason Leigh – Les Huit Salopards
Rooney Mara – Carol
Rachel McAdams – Spotlight
Meilleur acteur pour un second rôle :
Mark Rylance – Bridge of Spies
Sylvester Stallone – Creed
Christian Bale – The Big Short
Mark Ruffalo – Spotlight
Tom Hardy — The Revenant
Meilleur adaptation :
The Big Short – Adam McKay, Charles Randolph
Room — Emma Donaghue
Carol – Phyllis Nagy
The Martian – Drew Goddard
Brooklyn – Nick Hornby
Meilleur scénario original
Spotlight – Tom McCarthy, Josh Singer
Inside Out – Josh Cooley, Pete Docter, Meg LeFavue
Straight Outta Compton — Jonathan Herman, Andrea Berloff, S. Leigh Savidge, Alan Wenkus
Ex Machina – Alex Garland
Bridge of Spies – Matt Charman, Ethan Coen, Joel Coen
Meilleur photographie :
The Revenant – Emmanuel Lubezki
Sicario – Roger Deakins
Carol – Edward Lachman
Mad Max: Fury Road – John Seale
The Hateful Eight – Robert Richardson
Meilleure bande-originale :
The Hateful Eight – Ennio Morricone
Star Wars: The Force Awakens – John Williams
Bridge of Spies – Thomas Newman
Carol – Carter Burwell
Sicario — Johann Johannsson
Meilleur effets spéciaux :
Ex Machina
Star Wars: The Force Awakens
The Martian
Mad Max: Fury Road
The Revenant
Meilleur montage :
Mad Max: Fury Road
The Revenant
Spotlight
The Big Short
Star Wars: The Force Awakens
Meilleure chanson originale :
"Earned It" pour Fifty Shades of Grey
"Manta Ray" pour Racing Extinction
"Til It Happens to You" pour The Hunting Ground
"Writing's on the Wall" pour Spectre
"Simple Song #3" pour Youth
Meilleur son :
Sicario
Mad Max: Fury Road
The Martian
The Revenant
Star Wars: The Force Awakens
Meilleur film d'animation :
Inside Out
Anomalisa
Boy and the World
Shaun the Sheep Movie
When Marnie Was There
Meilleur film étranger :
Mustang – France
Le fils de Saul – Hungary
Theeb – Jordan
A War — Denmark
Embrace of the Serpent — Colombia
Meilleur documentaire :
Amy
The Look of Silence
Cartel Land
What Happened Miss Simone?
Winter's on Fire: Ukraine's Fight for Freedom