Voici un livre à vous recommander, The Back of the Napkin: Solving Problems and Selling Ideas with Pictures de Dan Roam, c'est un livre qui vous apprend à solutionner des problèmes en dessinant.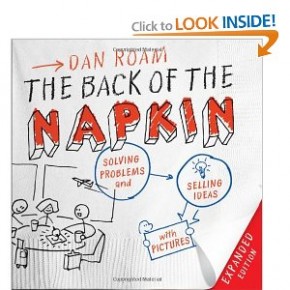 Vous inquiétez pas ce ne sont pas de chefs d'oeuvre qu'on vous demande de produire! Simplement des formes primaires comme des flèches, des cercles ou des petits bonhommes qui vous permettront de comprendre et surtout de vous faire comprendre. Très instructif, le livre de Dan Roam nous introduit à la pensée visuelle en 3 points.
"Voir visuellement" (expression bizarre hein..)
Imaginer visuellement
présenter visuellement.
N'oubliez jamais qu'un dessin vaut mille mots.. Et une vidéo à votre avis ?