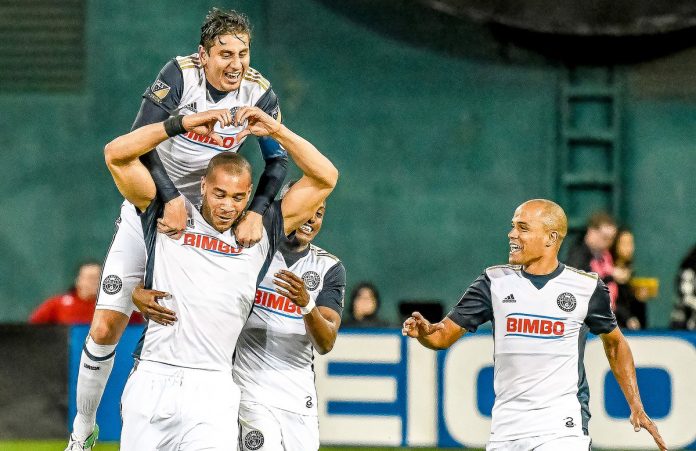 Beaucoup de buts se sont marqué en MLS cette semaine. Les remontées et les victoires à l'extérieur ont volé la vedette!
Voici un résumé de l'action en MLS.
Crew de Columbus vs Toronto FC : 1-2
Ça aurait pu fonctionner, on a passé bien près à Columbus de jouer le coup du 3-5-2 au Toronto FC, mais les visiteurs sont inarrêtables par les temps qui courent, et le supersub Ricketts a réussi à éteindre le Crew en toute fin de match.
Ce même Ricketts, qui a fait mal à l'Impact en élim. l'an dernier, vient d'en marquer un 2e ce soir, c'est 2-1 pour le #TFC #CLBvTOR #MLS

— Ian Gauthier (@IanGauthier) May 11, 2017
Dynamo de Houston vs Whitecaps de Vancouver : 2-1
Ce fut chaud (comme d'habitude) à Houston vendredi soir! Autant on a brûlé le Whitecaps, autant on a sué en fin de match pour préserver la victoire, et aller chercher le premier rang dans l'Ouest, du moins provisoirement. Chapeau au webmestre du Dynamo, continue comme ça!
GOOOOOAAAALLLLL DYNAMOOOOOOOOO

C-UBO slots home the penalty! 2-0! #HOUvVAN #DynamoStarWars pic.twitter.com/ZCQrmnD1Kn

— #VoteDynamo (@HoustonDynamo) May 13, 2017
Toronto FC vs Minnesota United : 3-2
En voilà six pour Toronto! Ce fut douloureux contre un Minnesota qui semble avoir trouvé sa zone de confort (Venegas n'est plus sur le XI partant d'ailleurs), mais Ricketts (encore lui) donne une autre victoire à son équipe en toute fin de match.
88' End-to-end stuff at @BMOField.#TFCLive | #TORvMIN | 3-2 pic.twitter.com/BLrjnFKNoW

— Toronto FC (@torontofc) May 13, 2017
Rapids du Colorado vs Earthquakes de San Jose : 3-0
Même si, à domicile, on a laissé l'adversaire touché un peu plus au ballon, on a été fidèles à nos habitudes au Colorado. On a bien défendu et on a su être opportunistes au bon moment, contrairement au Earthquakes. J'aime bien cette petite passe de Badji pour le troisième but!
So how about Badji's assist? 💯 #COLvSJ pic.twitter.com/BHEaC5kpD7

— Major League Soccer (@MLS) May 13, 2017
Impact de Montréal vs Crew de Columbus : 2-3
Un match de six points qu'on disait. Oh, qu'il était important ce match! Cependant, bien que le Bleu-Blanc-Noir soit revenu de l'arrière est a bien fait en deuxième demie, Justin Meram et son triplé a éteint le baptême de feu de Blerim Dzemaili.
Quel une-deux Meram Fisher 👌 1-0 Columbus. #MTLvCLB #IMFC

— Syd F. (@Solambey) May 13, 2017
DC United vs Union de Philadelphie : 0-4
7 et 5 sont les chiffres du match. Pour Philadelphie, c'est sept buts marqués en deux matchs. On dirait que ça a débloqué. Pour DC United, c'est cinq buts accordés en deux matchs sans en marquer un seul. À domicile. Aouch!
Orlando City SC vs Sporting de Kansas City : 2-2
Le jour où Orlando apprendra à defender, cette équipe sera incroyable! Déjà très spectaculaire, on a pas été capable de préserver la victoire, mais on a gardé la forteresse, alors qu'on a pas encore perdu à domicile. Est-ce que vous saviez que j'aime Kàka? Maintenant, oui!
.@KAKA makes it look easy. #ORLvSKC pic.twitter.com/cmKdPHUL7w

— Major League Soccer (@MLS) May 13, 2017
Revolution de la Nouvelle-Angleterre vs Real Salt Lake : 4-0
C'était les hommes contre les garçons en Nouvelle-Angleterre. Contre un RSL en déroute, on s'est amusé en mettant quatre buts en une seule demie. À l'instar de Philadelphie, les quatre buteurs sont tous différents! Chapeau!
Fire de Chicago vs Sounders de Seattle : 4-1
Bref, samedi soir était un bon soir pour Chicago!
Mood. #CHIvSEA pic.twitter.com/nsha44k8FP

— Major League Soccer (@MLS) May 14, 2017
Timbers de Portland vs Atlanta United : 1-1
Bien joué Portland!
RIDGY ROLL!!! Tied it up, 1-1.

Matchcenter: https://t.co/jGWpMTJ5QA #RCTID #PORvATL pic.twitter.com/FiJyhLgyn2

— Portland Timbers (@TimbersFC) May 14, 2017
Red Bull de New York vs Galaxy de Los Angeles : 1-3
C'est le Galaxy qu'on attendait qui s'est présenté à New York dimanche et qui a réduit au silence le Red Bull. Avec deux buts hâtifs de Roman Alessandrini, le Galaxy s'est donné un bon coussin pour subir tout le reste du match contre un Red Bull affamé.
FC Dallas vs New York City FC : 1-1
Queeeeeeeel match excitant pour clore cette semaine en MLS. 31 tirs au total entre ces deux ténors offensifs de la ligue. Dallas demeure invaincu, et chapeau à son capitaine, Hedges, qui s'est sacrifié pour l'équipe!
Nothing but a flesh wound and some stitches for the captain. #FCDvNYC pic.twitter.com/cWYoK3BhJx

— Carter Baum (@CarterBaum) May 15, 2017
---
Et si on parlait foot ?
Prenez part au débat sur Twitter : @KanFootClub ou sur la page Facebook de la communauté du Kan Football Club. Contactez nous par courriel à kanfc@afrokanlife.com. Tous nos podcasts, chroniques et exclusivités sur le soccer montréalais sont disponibles sur Stitcher, Player FM, Google Play Music, RZO, iTunes et sur la page kanfootballclub. Merci à notre partenaire miseojeu.