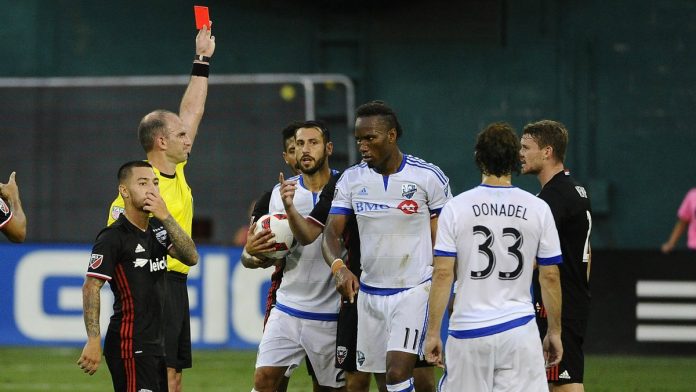 Lors de la rencontre DC United contre l'Impact de Montréal, Didier Drogba se fait expulser pour une réaction maladroite mais plutôt anodine envers Marcelo Sarvas. Alors qu'il vient de subir une faute au milieu de terrain, le joueur de l'Impact se dirige vers son adversaire et le touche du genou droit. L'arbitre central décide immédiatement d'expulser l'attaquant ivoirien.
Quite possibly the dumbest red card of the season. Drogba gets sent off. LOOK WHERE THE REF IS!!! pic.twitter.com/GXcvwTABW3

— Total MLS (@TotalMLS) August 1, 2016
L'Impact de Montréal a indiqué vouloir faire appel de la décision de l'arbitre Ted Unkel. Les règles FIFA concernant l'usage de "conduite violente" sont claires et la situation de Didier Drogba ne semble pas rentrer dans la définition. Néanmoins la réaction de frustration de Didier Drogba n'était pas nécessaire et un joueur de son calibre le sait pertinemment.
.@didierdrogba a reçu un carton rouge pour "Violent conduct".
Voici la règle FIFA.#IMFC @KanFootClub pic.twitter.com/T18hpz0yN2

— Nilton Jorge (@NiltonJorge) August 1, 2016
Le match s'est terminé sur le score de 1-1. DC United a pris les devants suite à une tête de Patrick Mullins en première mi-temps. L'Impact de Montréal a égalisé suite à une frappe de sa dernière recrue Hernan Bernadello.