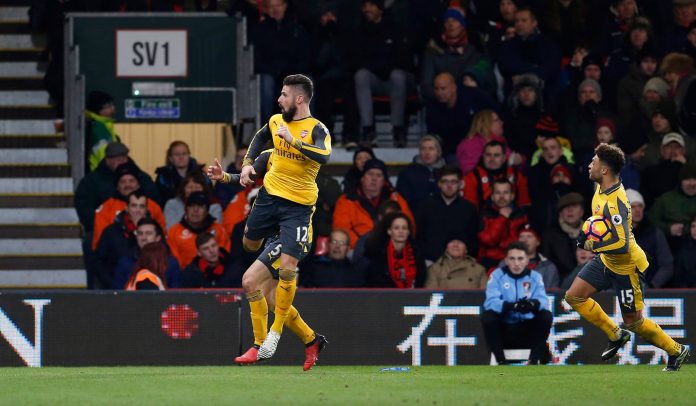 Quel match ! Mené 3-0 a 20 minutes de la fin du match, Arsenal a du puiser dans ses ressources.
Après 2 buts de Daniels (16) et Wilson (20), Arsenal a pris l'eau en debut de rencontre. Le 3e but de Fraser à l'heure de jeu semblait clore les débats du jour.
Relancé par Alexis (70) puis Lucas (75) les hommes d'Arsène Wenger ont fait preuve de caractère contre le Bournemouth FC.
Un coup de tête de l'inévitable Olivier Giroud leur promet d'arracher le point du match nul dans les derniers instants de la rencontre.
Lire aussi : Le coup du scorpion d'Olivier Giroud
INCREDIBLE.@_OlivierGiroud_ rises to head beyond Boruc – and we're desperate to go on the attack again…#BOUvAFC 3-3 (90) pic.twitter.com/PoxbSIBfjC

— Arsenal FC (@Arsenal) January 3, 2017
La célébration de Olivier Giroud sur le but de l'égalisation (3-3) 😂😂🔴⚪ pic.twitter.com/Nz5j0Gr7Xg

— Arsenal (France) (@Arsenal_France) January 3, 2017
Le nul n'arrange pas vraiment les affaires d'Arsenal, avec ce résultat, ils tombent du podium laissant la 3e place du classement à Manchester City et compte huit points de retard sur Chelsea avec un match un plus.
VIDEO – Football – Premier League : Wenger demande un calendrier plus "équitable"
Dans les autres matchs de la journée, Manchester City a disposé de Burnley ce lundi (2-1) malgré l'exclusion précoce de Fernandinho et revient à deux points de Liverpool qui a été tenu en échec à Sunderland (2-2).
Chelsea dispose désormais d'une avance de 5 et 7 points sur le duo.
🕘 TERMINÉ !

Bournemouth 3️⃣-3️⃣ Arsenal

1️⃣ Chelsea : 49 pts (-1)
2️⃣ Liverpool : 44 pts
3️⃣ Man. City : 42 pts
4️⃣ Arsenal : 41 pts pic.twitter.com/7v9hcxKocm

— Actu Foot (@ActuFoot_) January 3, 2017
---
Et si on parlait foot ?
Prenez part au débat sur Twitter : @KanFootClub ou sur la page Facebook de la communauté du Kan Football Club. Contactez nous par courriel à kanfc@afrokanlife.com. Tous nos podcasts, chroniques et exclusivités sur le soccer montréalais sont disponibles sur Stitcher, Player FM, Google Play Music, RZO, iTunes et sur la page kanfootballclub. Merci à notre partenaire miseojeu.