What is Miss World Muslimah? It is a beauty pageant for Muslim women started in 2010  in response to the Miss World beauty contest.
What is the mission of the organization behind this beauty contest? The World Muslimah Foundation defines itself as:
 The World Muslimah Foundation (WMF) is a friendly Muslim women's organization provides a conceptual model and specific techniques that guide the sisterhood among Muslim become more communicate and fun in ways that will enhance understanding of Islam and encourage members to be confident to find their essential skills.
 This year's contest was held in Indonesia's capital Jakarta. Meanwhile, Miss World is scheduled in a few days in Bali – Indonesia. Islamists in Indonesia have protested against the fact that Miss wold was going to be held in Jakarta. And they managed to get the location shift from Jakarta to  the island of Bali which is mainly Hindou.
So what exactly happens in a Muslim beauty pageant? 500 Muslim women enter the contest and compete until judges choose 20 finalists. Entrants send a video talking, among other things,  about their path to the religion and what wearing a headscarf meant to them. Judges assessed not only the appearance of the contestants but also their piety, religious knowledge and understanding of the Koran. The 20 finalists won a trip to Jakarta to prepare for the finale.
Miss Ajibolay was chosen amongst 20 women from Indonesia, Malaysia, Brunei, Iran and Bangladesh. She won a trip to Mecca.
Check out the pictures of the event and the video of her crowning: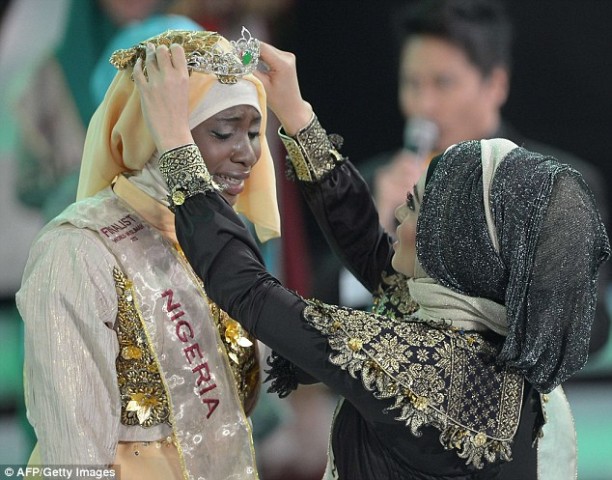 Credit Photo : AFP/Getty Image